Wine Enthusiast S-46 Wine Cellar (Outlet A)
You may have arrived to this page from one of our sister sites . . . here's how to return:
americanwino.com | northwesternwine.com
---
nywinetime.com proudly presents:
The Wine Enthusiast
Go to Previous Item | BACK TO LIST | Go to Next Item
---
Wine Enthusiast S-46 Wine Cellar (Outlet A)
---
Warehouse Outlet Center:Scratch & Dent and Refurbished
This is another trusted product from Wine Enthusiast. They have a great selection of wine gear, including the Other Wine Enthusiast S-46 Wine Cellar (Outlet A) presented on this page.
Please Note Condition: This unit is in good condition: Not in original packaging. These wine refrigerators have been inspected and tested to ensure they operate properly and include the full manufacturer's warranty. Returns are not permitted for cosmetic damages. Any questions of the condition please call our Wine Cellar Specialists at 800.356.8466. S-Series Wine Cellars Building on the extraordinary success of N'FINITY PRO Wine Cellars Wine Enthusiast presents the S-Series Dual Zone Wine Cellar featuring a full seamless glass door with black aluminum handle. Two-Zone Digital Temperature Control: Upper Zone: 41-54°F Lower Zone: 46-66°F Set storage and service temperatures for both red and white wine. Use Upper Zone for white service and Lower Zone for red and white storage or use both zones to store reds and whites. 'Red' 'White ' and 'Sparkling' indicator lights allow you to monitor temperatures at a glance. Energy Efficient Design: High efficiency compressor technology makes the S-Series wine cellars 25% more energy efficient than comparable wine cellars. Digital Touchscreen Temperature Control: Our S-Series digital thermostatic controls keeps constant temperature to allow your wine to age undisturbed. With the intuitive touchscreen display located on the inside of the door everything can be done with a simple touch of the controls. Smooth-Rolling Hardwood Faced Removable Shelves Complete Set: Innovative lower profile wood and metal shelf design allows for the most efficient use of space and maximum storage capacity. Smooth rolling on ball-bearing tracks for easy access. Smartly spaced to bottles of Bordeaux (regular) size and larger including Pinot Noir Chardonnay and Champagne. * Glass Door with Black Aluminum Handle: UV-protected glass protects wine from harmful light. Built-in key lock provides security. Built-In Versatility: Build the S-Series into your kitchen cabinetry or stand it on the floor in your den TV room or office! 3 Total Blue LED Interior Lights: A brilliant blue glow illuminates your bottles showcasing your wine with style. Additional Specifications: Capacity: Up to 46 bottles * Dimensions: 34- 3/4'H X 23- 3/4' W X 25- 3/4' D Temperature Range: Upper Compartment 41-54° & Lower Compartment 46-66°(+/- 2°F) Ambient Temperature Range: 45-80°F Applications: Free Standing Recessed or Built-In Electrical Requirements - Plugs directly into a US 110 Volt outlet on a dedicated 15 AMP line Warranty: 2 year on Parts & Labor in Home Warranty *Maximum bottle capacity may vary depending on bottle size and shelf configuration.
These were $799 at the time of this posting, but please click on the product link below to find the current price and availability.
Click Here to check price or purchase the Wine Enthusiast S-46 Wine Cellar (Outlet A) now !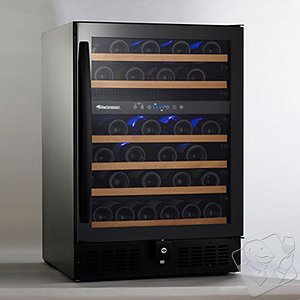 Go to Previous Item | BACK TO LIST | Go to Next Item
Thank you for visiting NYWINETIME! • BOOKMARK THIS SITE • Visit our Virtual Wine Shop
---
---
InActive Store





Wine Enthusiast S-46 Wine Cellar (Outlet A)