Steinbach German Vintner Musical Nutcracker
You may have arrived to this page from one of our sister sites . . . here's how to return:
americanwino.com | northwesternwine.com
---
nywinetime.com proudly presents:
The Wine Enthusiast
Go to Previous Item | BACK TO LIST | Go to Next Item
---
Steinbach German Vintner Musical Nutcracker
---
Home & Housewares:Home Decor
This is another trusted product from Wine Enthusiast. They have a great selection of wine gear, including the Other Steinbach German Vintner Musical Nutcracker presented on this page.
SteinbachWorld's Most Famous Nutcracker Maker. He's the ultimate collectible skillfully hand-carved and detailed in Germany with a talent for making wineand beautiful music! Turn the key on his wine barrel to hear the music-box version of the classic German drinking song 'Drink! Drink! Come Brother Drink!' Corduroy apron with stitched trim and matching derby band. A top-quality decorative hardwood piece with moving jaw. Since the 1800s the Steinbach family has been known around the world for making exceptional nutcrackers. Must-have pieces for collectors. Size: 17-1/2'H
These were $179.99 at the time of this posting, but please click on the product link below to find the current price and availability.
Click Here to check price or purchase the Steinbach German Vintner Musical Nutcracker now !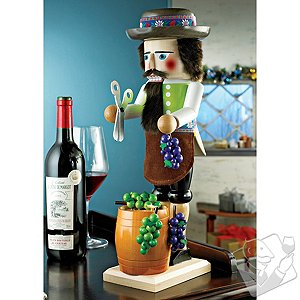 Go to Previous Item | BACK TO LIST | Go to Next Item
Thank you for visiting NYWINETIME! • BOOKMARK THIS SITE • Visit our Virtual Wine Shop
---
---
InActive Merchant





Steinbach German Vintner Musical Nutcracker