Wine Map Of Oregon
You may have arrived to this page from one of our sister sites . . . here's how to return:
americanwino.com | northwesternwine.com
---
nywinetime.com proudly presents:
The Wine Enthusiast
Go to Previous Item | BACK TO LIST | Go to Next Item
---
Wine Map Of Oregon
---
Home Décor:Wine Region Maps
This is another trusted product from Wine Enthusiast. They have a great selection of wine gear, including the Other Wine Map Of Oregon presented on this page.
The viticultural areas and wineries of Oregon are beautifully displayed within the context of the unique and varied geography of Oregon. Learn about the geological climactic and varietal characteristics of specific AVAs in the regions from the Willamette to the Walla Walla Valley and see where your favorite wineries are located. These maps combine detailed wine region and reference information with a shaded relief background in order to showcase the characteristic physical geography of a particular region. All maps are printed on high quality satin matte finish paper. Perfect to mount in your wine cellar winery library or office. Size: 30'H x 42'W
These were $69.95 at the time of this posting, but please click on the product link below to find the current price and availability.
Click Here to check price or purchase the Wine Map Of Oregon now !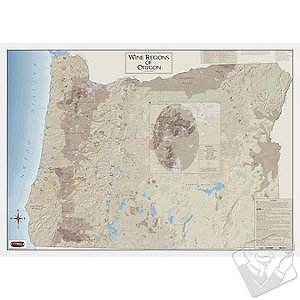 Go to Previous Item | BACK TO LIST | Go to Next Item
Thank you for visiting NYWINETIME! • BOOKMARK THIS SITE • Visit our Virtual Wine Shop
---
---
InActive Store





Wine Map Of Oregon