Peugeot Les Impitoyables Sparkling Wines Tasting Glass
You may have arrived to this page from one of our sister sites . . . here's how to return:
americanwino.com | northwesternwine.com
---
nywinetime.com proudly presents:
The Wine Enthusiast
Go to Previous Item | BACK TO LIST | Go to Next Item
---
Peugeot Les Impitoyables Sparkling Wines Tasting Glass
---
Wine Glasses:Champagne Flutes
This is another trusted product from Wine Enthusiast. They have a great selection of wine gear, including the Peugeot Peugeot Les Impitoyables Sparkling Wines Tasting Glass presented on this page.
With 'Les Impitoyables®' tasting becomes perfection. Our glasses are specially designed to reveal all of the qualities of each wine. Each style of wine has its own glass shape to release the flavors and serve just the right volume to reveal the wine's quintessence. Each 'Les Impitoyables' glass is a unique handmade and off-hand blown piece created according to great glassmaking traditions. Glass No. 4: Sparkling wines Tapered to contain just the right volume while minimizing aeration this glass has a frosted area at the base to help columns of bubbles rise to the surface. The widest part at the top of the glass intensifies the perception of aromas and hinders their dispersion. USING A TASTING GLASS The glass should be filled no higher than the broadest part of the body allowing a maximum exposure to the air causing the aromas to develop and intensify. The broad surface will also allow the optimal opportunity to examination the surface of the wine. By filling the glass to only one-third of its capacity space remains for the aromas of the wine – its bouquet – to develop. As the wine begins to evaporate its various aromatic elements begin to concentrate in this area and taster is able to fully appreciate all the wine has to offer over the course of the tasting. Please note: before each tasting purists will rinse each glass with a little wine.
These were $30 at the time of this posting, but please click on the product link below to find the current price and availability.
Click Here to check price or purchase the Peugeot Les Impitoyables Sparkling Wines Tasting Glass now !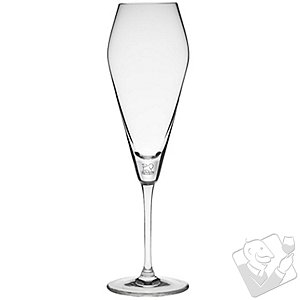 Go to Previous Item | BACK TO LIST | Go to Next Item
Thank you for visiting NYWINETIME! • BOOKMARK THIS SITE • Visit our Virtual Wine Shop
---
---
InActive Store





Peugeot Les Impitoyables Sparkling Wines Tasting Glass