Norlan Whisky Glass (Set of 2)
You may have arrived to this page from one of our sister sites . . . here's how to return:
americanwino.com | northwesternwine.com
---
nywinetime.com proudly presents:
The Wine Enthusiast
Go to Previous Item | BACK TO LIST | Go to Next Item
---
Norlan Whisky Glass (Set of 2)
---
Barware:Scotch & Whiskey Glasses
This is another trusted product from Wine Enthusiast. They have a great selection of wine gear, including the Other Norlan Whisky Glass (Set of 2) presented on this page.
Form and Construction The Norlan glass is a transparent double walled vessel formed with glass blowing technique into two separate two-part molds: one for the inner wall and one for the outer wall. When the inner and outer glass walls are prepared the rims are reheated and the inner glass is inserted at which time the rims are sealed. This creates a hollow body glass with dramatically different inside shape to outside shape. A unique effect of the double-walled construction is the intensity of color added to spirits in the bowl which is further carried up into the rim of the glass. Details Sold as a Set of Two Glasses Material: Hand-blown borosilicate glass Dimensions: 9.5cm tall 6.3cm diameter outer rim 3.8cm square base Total capacity approx. 5.9 fl. oz. Recommended pour 0.75-1.5 fl. oz. Weight: 125 grams (that's very light) Concave lip: formed to fit the lower lip of the mouth elegantly Faceted base: allows one to hold the glass without getting fingerprints on the bowl Microfiber polishing cloth included Aeration Through specially developed protrusion forms inside the glass — adapted through studying bio-mimicry — when swirled around the glass the fluid forms a standing wave shape which increases the surface to air ratio and rate of oxidization. The effect here is that considerably more ethanol evaporates. This resulting reduction in volatility allows the whisky to become significantly more expressive. This feature is an invention of the Norlan glass — no other whisky glass will do this for you. Aroma Focus The second main performance feature is the shape of the inner walls which close as they rise and then flare out again so as not to hit the nose. The height and diameter of the smallest aperture focuses the aromatics to the nose while simultaneously diffusing the ethanol away from the face fantastically improving the taste of your whisky.
These were $48 at the time of this posting, but please click on the product link below to find the current price and availability.
Click Here to check price or purchase the Norlan Whisky Glass (Set of 2) now !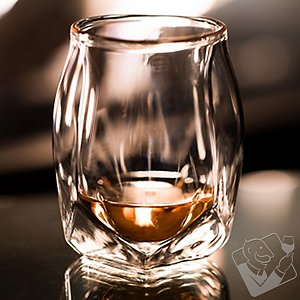 Go to Previous Item | BACK TO LIST | Go to Next Item
Thank you for visiting NYWINETIME! • BOOKMARK THIS SITE • Visit our Virtual Wine Shop
---
---
InActive Store





Norlan Whisky Glass (Set of 2)