IceLiners Martini Glass
You may have arrived to this page from one of our sister sites . . . here's how to return:
americanwino.com | northwesternwine.com
---
nywinetime.com proudly presents:
The Wine Enthusiast
Go to Previous Item | BACK TO LIST | Go to Next Item
---
IceLiners Martini Glass
---
Barware:Martini Glasses
This is another trusted product from Wine Enthusiast. They have a great selection of wine gear, including the Other IceLiners Martini Glass presented on this page.
Keep cool with Iceliners. While the jury may be out on shaken or stirred everyone agrees that they want their martini cold- ICE COLD. Using a very simple process Iceliners create an ice-lined glass that will keep your drink perfectly chilled for up to 30 minutes giving you a last sip as crisp and cool as the first. Simply secure the silicone mold onto the glass fill with water and place upright into the freezer. Once frozen remove the mold and enjoy! Get creative with IceLiners by using various mixers juices and even fruit or berries. Using a patented silicone mold and the included corresponding cocktail glass we have created a revolutionary yet simplistic way to keep your favorite cocktail at the perfect temperature. This ice lined glass will typically last 35-45 minutes keeping your drink at near-freezing temperatures. 1. Place the mold securely on the glass and use the easy-fill spout to fill the glass with water mixers or juice. 2. Place the filled glass and mold upright in freezer. 3. When frozen peel off the silicone mold and make another. The IceLiners Martini mold fits one of the most popular high-end martini glasses on the market. The classy 10 oz. glass leaves plenty of room for a serious martini.
These were $19.95 at the time of this posting, but please click on the product link below to find the current price and availability.
Click Here to check price or purchase the IceLiners Martini Glass now !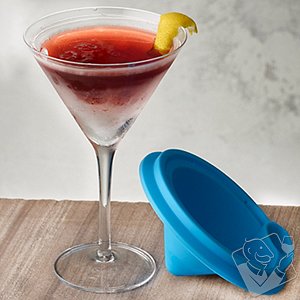 Go to Previous Item | BACK TO LIST | Go to Next Item
Thank you for visiting NYWINETIME! • BOOKMARK THIS SITE • Visit our Virtual Wine Shop
---
---
InActive Store





IceLiners Martini Glass