Personalized Barrel Whiskey Bootleg Kit
You may have arrived to this page from one of our sister sites . . . here's how to return:
americanwino.com | northwesternwine.com
---
nywinetime.com proudly presents:
The Wine Enthusiast
Go to Previous Item | BACK TO LIST | Go to Next Item
---
Personalized Barrel Whiskey Bootleg Kit
---
Personalized Décor:Personalized Mini Oak Wine Barrels
This is another trusted product from Wine Enthusiast. They have a great selection of wine gear, including the Other Personalized Barrel Whiskey Bootleg Kit presented on this page.
Personalized Whiskey Making Barrel Give into the do-it-yourself trend with a spirit-making gift that's a cool gift for the whiskey lover and a great decorative idea to boot. This 'bootleg kit' is a handmade American white oak barrel of superb craftsmanship that Includes spigot bung stand essences. Start by curing your barrel. (see instructions). Pour most of a 750ml bottle of 40% alc./vol. grain alcohol neutral vodka or swish alcohol into the barrel. Add 1 bottle of Essence (per 750ml of vodka) and fill the barrel with the remaining alcohol. SHAKE WELL to mix thoroughly. It's best when aged for 2 or more weeks but if you can't wait... DRINK NOW! Personalize: Line 1: Up to 14 Characters Line 2: Up to 20 Characters Line 3: Up to Initials Line 4: Up to 30 Characters Line 5: Up to 20 Characters Personalize up to 5 lines Choose from 1 2 or 5 liters Kit Includes: American White Oak Barrel w/stand bung and spigot (charred) Set of 3 Essence flavors: Kentucky Bourbon Tennessee Whiskey Highland Malt Scotch Paper Funnel Barrel Cleaning Kit Complete Instructions included!
These were $199.95 at the time of this posting, but please click on the product link below to find the current price and availability.
Click Here to check price or purchase the Personalized Barrel Whiskey Bootleg Kit now !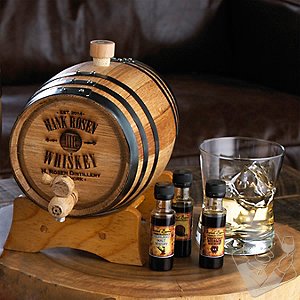 Go to Previous Item | BACK TO LIST | Go to Next Item
Thank you for visiting NYWINETIME! • BOOKMARK THIS SITE • Visit our Virtual Wine Shop
---
---
InActive Store





Personalized Barrel Whiskey Bootleg Kit