Goverre Portable Stemless Wine Glass (Turquoise)
You may have arrived to this page from one of our sister sites . . . here's how to return:
americanwino.com | northwesternwine.com
---
nywinetime.com proudly presents:
The Wine Enthusiast
Go to Previous Item | BACK TO LIST | Go to Next Item
---
Goverre Portable Stemless Wine Glass (Turquoise)
---
Wine Glasses:Red Wine Glasses
This is another trusted product from Wine Enthusiast. They have a great selection of wine gear, including the Goverre Goverre Portable Stemless Wine Glass (Turquoise) presented on this page.
This To Go Tumbler is a portable stemless wine GLASS with a silicone sleeve and drink-through lid. Now you no longer have to drink your favorite wine out of a plastic cup water bottle etc. while outdoors at a concert in the park picnic or camping. There are three components that make GOVERRE unique: 1. Glass : the white glass is unique chic and discreet. Glass preserves the taste and integrity of your wine. The glass is twice as thick than a typical wine glass making it durable and holds 17oz of your favorite beverage (ours happens to be wine). 2. Silicone Sleeve : The houndstooth-patterned silicone sleeve gives added durability prevents heat transfer and provides a no-slip grip. 3. The Lid : The lid prevents your wine from spilling and keeps the bugs and sand out. You can drink your wine through the lid or simply take it off and use it as a regular stemless glass once you arrive at your outdoor destination. phthalate lead-free and dishwasher safe. Dimensions: 4' H X 4' Dia Capacity: 17 fl oz. 1 glass per set
These were $24 at the time of this posting, but please click on the product link below to find the current price and availability.
Click Here to check price or purchase the Goverre Portable Stemless Wine Glass (Turquoise) now !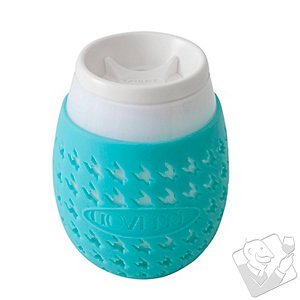 Go to Previous Item | BACK TO LIST | Go to Next Item
Thank you for visiting NYWINETIME! • BOOKMARK THIS SITE • Visit our Virtual Wine Shop
---
---
InActive Store





Goverre Portable Stemless Wine Glass (Turquoise)