Riedel Eve Decanter
You may have arrived to this page from one of our sister sites . . . here's how to return:
americanwino.com | northwesternwine.com
---
nywinetime.com proudly presents:
The Wine Enthusiast
Go to Previous Item | BACK TO LIST | Go to Next Item
---
Riedel Eve Decanter
---
Decanters:Wine Decanters
This is another trusted product from Wine Enthusiast. They have a great selection of wine gear, including the Riedel Riedel Eve Decanter presented on this page.
This elegant Riedel Eve decanter is an artful masterpiece as well as an extremely functional wine vessel. The Eve decanter features a generously tall silhouette of almost 20 inches and the unique design is reminscent of an elegant upright cobra waiting to drink the wine you pour forth. The person serving from this decanter can create a dramatic presentation as it is necessary to turn the vessel a specific way to pour. No worries though. Beautifully packaged in Riedel's signature black and red box the EVE decanter comes with an instructional DVD narrated by Maximilian Riedel which explains the pouring technique and cleaning instructions. Delight your guests and serve them a lovely red wine in this visual masterpiece. Mouth-blown. Recommended to hand wash. The sensuous serpentine curves of Riedel's new crystal mouth-blown Eve decanter are not only seductive but functional. This design tour de force double decants your wine as it flows through the coiled shape. Serving wine becomes a performance as the decanter's twist and turns require the same movement by you - turning the decanter in a slow 360 degree rotation to 'charge' the decanter and allow the wine to pour. EVE is a decanter that also speaks - it emits a sound akin to the gurgle of the King Cobra as the wine makes its trip through the curvaceous swirl of glass. Eve's long graceful neck means that you can easily pour a guest across the table without moving from your spot. The Eve decanter designed by Maximilian Riedel in 2008 is a tribute to the family's matriarch Eva Riedel. Each Eve decanter is free blown by a master glass blower in Austria and is a unique and functional work of art. Decanting young wines several hours before they are served gives the wine a chance to bloom and attain a stage of development that normally requires years of aging. The EVE decanter achieves these same results immediately by allowing for the maximum effect of oxygen on the young tannins and aromas of the wine - liberating the aromas intensifying the fruitiness of the mid-palate and rounding out the texture. Size: 20'H; 48-1/4oz. Riedel Model #: 1950/09
These were $446.25 at the time of this posting, but please click on the product link below to find the current price and availability.
Click Here to check price or purchase the Riedel Eve Decanter now !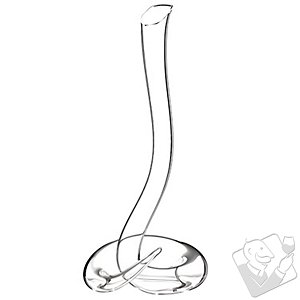 Go to Previous Item | BACK TO LIST | Go to Next Item
Thank you for visiting NYWINETIME! • BOOKMARK THIS SITE • Visit our Virtual Wine Shop
---
---
InActive Store





Riedel Eve Decanter