Zalto Beer Glass
You may have arrived to this page from one of our sister sites . . . here's how to return:
americanwino.com | northwesternwine.com
---
nywinetime.com proudly presents:
The Wine Enthusiast
Go to Previous Item | BACK TO LIST | Go to Next Item
---
Zalto Beer Glass
---
Barware:Beer Glasses
This is another trusted product from Wine Enthusiast. They have a great selection of wine gear, including the Zalto Glassware Zalto Beer Glass presented on this page.
Zalto stemware is famous for the way it brings out the best in every beverage. Doesn't your beer deserve this kind of treatment as well? This is truly one of the finest glasses designed specifically for beer and in particular those of Pilsen and Marzen styles - absolutely nothing else on the market can compare. Pull the tap pop the cap and pour yourself the finest frothy experience you've ever had. (One (1) glass per order) Technical perfection is the basic principle of the Zalto Glass Shop. Zalto Glasses have always been produced following a tradition of using only the most highly skilled glass-blowers working with a selection of the best raw materials. The curve of the bowls are tilted at the angles of 24 48 and 72 degrees which are in accordance to the tilt angles of the Earth. All Denk'art glasses are lead free. Dimensions: 7- 7/10' H X 3- 1/4' Diam Capacity 14 Ounces
These were $55 at the time of this posting, but please click on the product link below to find the current price and availability.
Click Here to check price or purchase the Zalto Beer Glass now !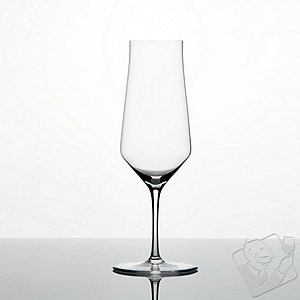 Go to Previous Item | BACK TO LIST | Go to Next Item
Thank you for visiting NYWINETIME! • BOOKMARK THIS SITE • Visit our Virtual Wine Shop
---
---
InActive Store





Zalto Beer Glass