Zalto Denk'Art Water Glass
You may have arrived to this page from one of our sister sites . . . here's how to return:
americanwino.com | northwesternwine.com
---
nywinetime.com proudly presents:
The Wine Enthusiast
Go to Previous Item | BACK TO LIST | Go to Next Item
---
Zalto Denk'Art Water Glass
---
Barware
This is another trusted product from Wine Enthusiast. They have a great selection of wine gear, including the Zalto Glassware Zalto Denk'Art Water Glass presented on this page.
The standard-glass that should always be placed next to the wine glass. Due to its similarity to the wine glass it also makes a perfect tasting-glass. (One (1) glass per order) Crafted for water non-alcoholic drinks and particularly bitter beers. The work-horse of the gorgeous Zalto Denk'art line this glass will finish any table setting in style as it serves up the more mundane libations. The shorter stem also makes this already very durable glass even sturdier. Interestingly it has become the go-to glass for wine tastings next to the Denk'art White Wine and Universal glass. Technical perfection is the basic principle of the Zalto Glass Manufacture. Zalto Glasses have always been produced following a tradition of using only the most highly skilled glass-blowers working with a selection of the best raw materials. The curve of the bowls are tilted at the angles of 24 48 and 72 degrees which are in accordance to the tilt angles of the Earth. All Denk'art glasses are lead free. Dimensions: 7- 7/10' H X 3- 1/4' Diam. Capacity: 14 oz.
These were $55 at the time of this posting, but please click on the product link below to find the current price and availability.
Click Here to check price or purchase the Zalto Denk'Art Water Glass now !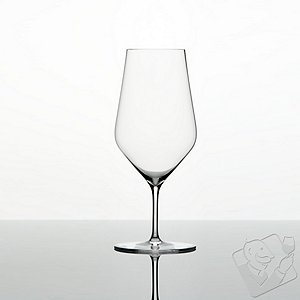 Go to Previous Item | BACK TO LIST | Go to Next Item
Thank you for visiting NYWINETIME! • BOOKMARK THIS SITE • Visit our Virtual Wine Shop
---
---
InActive Store





Zalto Denk'Art Water Glass