Fusion Air Pinot Noir Wine Glasses (Set of 4)
You may have arrived to this page from one of our sister sites . . . here's how to return:
americanwino.com | northwesternwine.com
---
nywinetime.com proudly presents:
The Wine Enthusiast
Go to Previous Item | BACK TO LIST | Go to Next Item
---
Fusion Air Pinot Noir Wine Glasses (Set of 4)
---
Wine Glasses:Red Wine Glasses
This is another trusted product from Wine Enthusiast. They have a great selection of wine gear, including the Fusion Fusion Air Pinot Noir Wine Glasses (Set of 4) presented on this page.
Unbelievably Light Unbreakably Strong Unmistakably GuaranteedElevate your everyday. Enjoy the beauty of European crystal without the breakability or the weight. Fusion Air melds handblown lead-free crystal with magnesium to produce a glass that is strong lightweight and remarkably break-resistant.You break it. We replace it. Free. In the unlikely event that your Fusion Air stemware breaks we will replace it free – even up to 10 years from the date of purchase. Simply call us and we will get the replacement process started. Learn more about our 10-Year Warranty. Lighter Thinner Stronger Fusion Air is thinner than the rest of the Fusion line and markedly thinner than ordinary glass. The result is not just lighter-weight stemware but a slim stem that is a pleasure to hold and a thin lip for easy sipping and savoring. Refraction and Resonance Toast with the sonorous clink of crystal. Fusion Air stemware has shimmering refractive qualities that look great on your table as well as an amazing clarity for better appreciation of the color and viscosity of your wines. Style Meet Substance Air Fusion's visual design is a reinterpretation of classic forms for today's wine drinkers. The angles of the bell focus the aromas out of the glass giving your wine a forward quality making every sip more enjoyable. Easy to Care For Easy to Love Fusion Air glasses are dishwasher safe and will never cloud or dull. Their break-resistant strength allows them to be hand-washed more safely than other crystal stemware.Bordeaux The large bowl directs full-bodied wines like Cabernet Merlot or Bordeaux to the center of the tongue to balance fruit tannin and acidity. Pinot Noir The broad bowl allows the delicate aromas accumulate and directs wine to the tip of the tongue.Universal Glasses Designed for use with whites or reds these glasses have a narrower bowl which reduces the surface area of the wine allowing for a slower rate of oxidation.
These were $59.95 at the time of this posting, but please click on the product link below to find the current price and availability.
Click Here to check price or purchase the Fusion Air Pinot Noir Wine Glasses (Set of 4) now !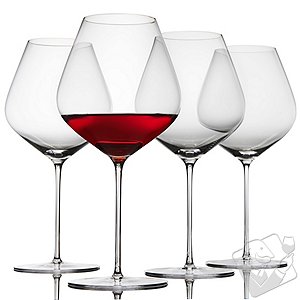 Go to Previous Item | BACK TO LIST | Go to Next Item
Thank you for visiting NYWINETIME! • BOOKMARK THIS SITE • Visit our Virtual Wine Shop
---
---
InActive Store





Fusion Air Pinot Noir Wine Glasses (Set of 4)