Riedel Sommeliers Tasters Set (Set of 8)
You may have arrived to this page from one of our sister sites . . . here's how to return:
americanwino.com | northwesternwine.com
---
nywinetime.com proudly presents:
The Wine Enthusiast
Go to Previous Item | BACK TO LIST | Go to Next Item
---
Riedel Sommeliers Tasters Set (Set of 8)
---
Wine Glasses:White Wine Glasses
This is another trusted product from Wine Enthusiast. They have a great selection of wine gear, including the Riedel Riedel Sommeliers Tasters Set (Set of 8) presented on this page.
This Riedel Sommeliers Tasters Set includes two of the four most popular Riedel Sommelier glasses for a total of eight wine glasses. The creme de la creme of luxury stems. The Riedel Sommeliers wine glass line is the top-of-the-line series of stemware from the legendary Riedel. Wine experts agree that glassware makes a profound difference on how wines taste. Riedel Sommeliers wine glasses are the benchmark and the most successful series of hand-made glasses in the world. The wine glass bowls are mouth-blown into a mould the stem and base are handcrafted using ancient glass-making methods. Recommend to hand wash. Cabernet/Merlot/Bordeaux wine glass recommended for : Bordeaux (red) Brunello di Montalcino Sangiovese Cabernet Franc. Pinot Noir/Burgundy wine glass recommended for : Burgundy (red) Barbaresco Barolo Beaujolais Grand Cru. Chardonnay wine glass recommended for : Albariño Bourgogne Aligoté Bordeaux (white) Burgundy (white) Chablis Chardonnay Chenin Blanc Corton-Charlemagne Hermitage blanc Marsanne Meursault Pinot (Blanc Grigio Gris) Sauvignon blanc (Barrique) Sauvignon-Sémillon (Barrique) Viognier. Champagne Wine Glass recommended for all champagnes . Set Includes: 2 Chardonnay - 8-1/2'H x 2-3/8' Dia. 12-3/8 oz. 2 Pinot Noir/Burgundy - 9-3/4'H x 3-3/4' Dia. 37 oz. 2 Cabernet/Merlot/Bordeaux - 10-5/8'H x 3-1/8' Dia. 30-3/8 oz. 2 Champagne - 9-5/8'H x 2-1/8' Dia. 11-5/8oz. Riedel Model #'s: 4400/0 4400/16 4400/00 & 4400/28
These were $695.6 at the time of this posting, but please click on the product link below to find the current price and availability.
Click Here to check price or purchase the Riedel Sommeliers Tasters Set (Set of 8) now !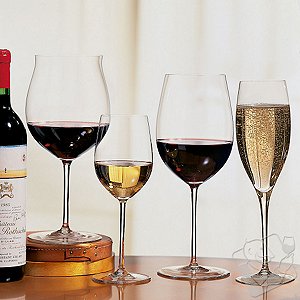 Go to Previous Item | BACK TO LIST | Go to Next Item
Thank you for visiting NYWINETIME! • BOOKMARK THIS SITE • Visit our Virtual Wine Shop
---
---
InActive Store





Riedel Sommeliers Tasters Set (Set of 8)