Riedel Sommeliers Value Set Burgundy Grand Cru
You may have arrived to this page from one of our sister sites . . . here's how to return:
americanwino.com | northwesternwine.com
---
nywinetime.com proudly presents:
The Wine Enthusiast
Go to Previous Item | BACK TO LIST | Go to Next Item
---
Riedel Sommeliers Value Set Burgundy Grand Cru
---
Wine Glasses:Red Wine Glasses
This is another trusted product from Wine Enthusiast. They have a great selection of wine gear, including the Riedel Riedel Sommeliers Value Set Burgundy Grand Cru presented on this page.
260 Years Celebration Pack of Riedel Glass (1756-2016) In celebration of over 260 years of superior glassware craftmanship Riedel has assembled some of their best selling glasses in a celebration pack for all wine lovers to enjoy. These limited edition glassware sets are available while supplies last. Established in 1756 in Bohemia part of the Habsburg Monarchy Johann Leopold Riedel started the story of this dynasty which to this day remains inseperably connected with fine glassware. 1756 was a time rich with history not only for Riedel Glassware but for Central Europe as well: * The birth of the genius Mozart * The first wine region in Portual is registered * Casanova escapes from the Doge's Palace in Venice The creme de la creme of luxury stems. The Riedel Sommeliers wine glass line is the top-of-the-line series of stemware from the legendary Riedel. Wine experts agree that glassware makes a profound difference on how wines taste. Riedel Sommeliers wine glasses are the benchmark and the most successful series of hand-made glasses in the world. Each Sommeliers wine glass is individually made of lead-free crystal: the wine glass bowls are mouth-blown into a mould the stem and base are handcrafted using ancient glass-making methods. Recommend to hand wash. The Riedel Sommeliers Pinot Noir / Burgundy wine glass reveals the glory of top-class Burgundies and Pinot Noir wines. The large bowl allows the bouquet to develop to the fullest while the slightly flared top lip maximizes the fruit flavors by directing the wine to the front palate which ensure the fruit is highlighted while keeping the acidity of the wine in balance. Recommended for: Burgundy (red) Barbaresco Barolo Beaujolais Grand Cru. Dimensions : 9- 3/4' H X 3- 3/4' Dia Capacity : 37 oz.
These were $115 at the time of this posting, but please click on the product link below to find the current price and availability.
Click Here to check price or purchase the Riedel Sommeliers Value Set Burgundy Grand Cru now !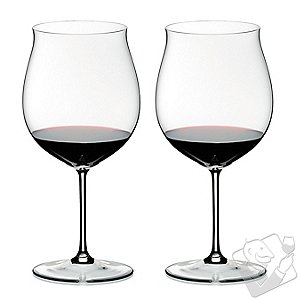 Go to Previous Item | BACK TO LIST | Go to Next Item
Thank you for visiting NYWINETIME! • BOOKMARK THIS SITE • Visit our Virtual Wine Shop
---
---
InActive Store





Riedel Sommeliers Value Set Burgundy Grand Cru