Pay 6 Get 8 Riedel Vinum Chardonnay (Set of 8)
You may have arrived to this page from one of our sister sites . . . here's how to return:
americanwino.com | northwesternwine.com
---
nywinetime.com proudly presents:
The Wine Enthusiast
Go to Previous Item | BACK TO LIST | Go to Next Item
---
Pay 6 Get 8 Riedel Vinum Chardonnay (Set of 8)
---
Wine Glasses:White Wine Glasses
This is another trusted product from Wine Enthusiast. They have a great selection of wine gear, including the Riedel Pay 6 Get 8 Riedel Vinum Chardonnay (Set of 8) presented on this page.
Riedel's best deal ever. Pay for 6 but get 8. Riedel Vinum Wine Glasses make every drop of wine taste its best. Riedel revolutionized glassware by customizing the shape of wine glasses to a particular type of wine. Each wine glass is fine-tuned to direct the flow of the wine onto parts of the palate that will best express the flavors and aromas of a specific wine varietal. The fine crystal offers superb clarity so you can experience the wine's color and texture. Moreover all machine made Vinum stems are completely dishwasher safe. The Riedel Vinum Chardonnay wine glass is perfect for dry white wines including Chablis and lighter-style Chardonnay. Its narrow rim directs the flow of wine toward the mid-palate allowing you to appreciate the balance of fruit flavors and acidity. The subtle elongation of the bowl captures the complex characters of the wine's aromas. Recommended for: Bordeaux (white) Burgundy (white) Chablis Chardonnay Chenin Blanc Pinot (Blanc Grigio Gris) Viognier. Size: 7-3/4'H 12-3/8 oz. Riedel Model # 6416/5
These were $149.95 at the time of this posting, but please click on the product link below to find the current price and availability.
Click Here to check price or purchase the Pay 6 Get 8 Riedel Vinum Chardonnay (Set of 8) now !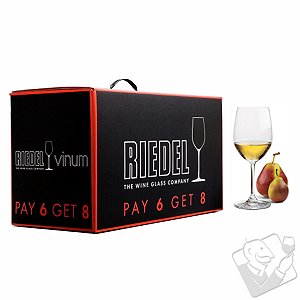 Go to Previous Item | BACK TO LIST | Go to Next Item
Thank you for visiting NYWINETIME! • BOOKMARK THIS SITE • Visit our Virtual Wine Shop
---
---
InActive Store





Pay 6 Get 8 Riedel Vinum Chardonnay (Set of 8)