Freeze Pilsner Beer Glass (Set of 2)
You may have arrived to this page from one of our sister sites . . . here's how to return:
americanwino.com | northwesternwine.com
---
nywinetime.com proudly presents:
The Wine Enthusiast
Go to Previous Item | BACK TO LIST | Go to Next Item
---
Freeze Pilsner Beer Glass (Set of 2)
---
Barware:Beer Glasses
This is another trusted product from Wine Enthusiast. They have a great selection of wine gear, including the Other Freeze Pilsner Beer Glass (Set of 2) presented on this page.
Freeze Pilsner Beer Glass are double wall glasses filled with a special cooling liquid. Freeze glasses are made of double wall borosilicate glass and can withstand temperatures of (-22°F to 482°F) Set of 2 Glasses A freeze glass will keep a drink ice cold for at least 30 minutes. Once frozen the glass will chill your drink within 2 – 3 minutes to a temperature between 0°C and -2°C (32°F and 36°F). A freeze glass can be activated by keeping it in the freezer. Amsterdam Glass is the patent holder of the special consumer safe and environmentally friendly glass cooling technology. All freeze glass products are fitted with a special pressure release plug. In case there is any overpressure the valve will depressurize and the cooling liquid will be released. Just another feature we have added to for your safety. The valve is a special one-way valve and therefore makes the freeze glass dishwasher proof. The liquid between the double layers is consumer safe and consists of only natural liquids. The liquid freezes to -18°C (-0.4°F) when cooled in the freezer. The temperature of the freezer should be between -15°C and -25°C (5°F and -13°F). With this technology the freeze glass will take the heat from the drink and release the cold of the liquid directly to the drink inside the glass. The freeze glass is dishwasher safe and can also be hand washed.
These were $39.95 at the time of this posting, but please click on the product link below to find the current price and availability.
Click Here to check price or purchase the Freeze Pilsner Beer Glass (Set of 2) now !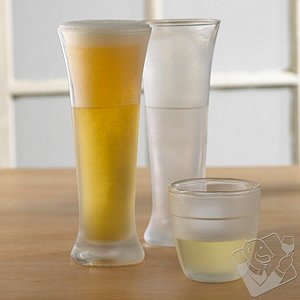 Go to Previous Item | BACK TO LIST | Go to Next Item
Thank you for visiting NYWINETIME! • BOOKMARK THIS SITE • Visit our Virtual Wine Shop
---
---
InActive Store





Freeze Pilsner Beer Glass (Set of 2)