Parallel Wine Racking Kit (Large)
You may have arrived to this page from one of our sister sites . . . here's how to return:
americanwino.com | northwesternwine.com
---
nywinetime.com proudly presents:
The Wine Enthusiast
Go to Previous Item | BACK TO LIST | Go to Next Item
---
Parallel Wine Racking Kit (Large)
---
Wine Racks:Wooden Wine Racks
This is another trusted product from Wine Enthusiast. They have a great selection of wine gear, including the Other Parallel Wine Racking Kit (Large) presented on this page.
Parallel Wine Racking Kit Update design style trending wine display format and contemporary materials – Wine Enthusiast has answered the request for a more transitional wine racking system with Parallel. Metal wine display hardware spans a walnut wood structure to house and display wine in a unique format that focuses attention on your wine. This wine racks system stores and displays wine in a label forward format but can also be stored neck-out for greater capacity. With 4 ¼" between Parallel bars it will store a range of wine from standard Bordeaux size to Pinot Noir Champagne and even some Magnum sizes. 2 bottles wide (label forward) 9 rows high 3 bottles deep Dimensions: 1 Bottle Deep: 45'H x 40'W x 3.75'D/li> 1 Bottle Deep Capacity: 27 2 Bottle Deep: 45'H x 40'W x 7.75'D 2 Bottle Deep Capacity: 54 3 Bottle Deep: 45'H x 40'W x 11.75'D 3 Bottle Deep Capacity: 81 D. Note: Wall mounted bracket extends the depth (clearing existing base molding) for a finished depth of 12 5/8". Wine racks can be expanded vertically (two units) to 84" H Contemporary Look. Simple Assembly. Simple clean lines are achieved with as the wood vertical sit directly on the floor with no base platform or moldings. The vertical casework sides are pre-drilled for easy horizontal Parallel rod assembly. The vertical casework sits on the finished floor with optional concealed feet levelers the wine rack is secured to the wall with provided wall bracket and a second unit can be seamlessly stacked to achieve a 7-foot height. Assembly instructions and hardware included. Cordless drill (not included) required for assembly. Options and upgrades include: finished end panels LED display lighting and controls (with stand-off brackets) adjustable feet and additional wall mounting brackets. FREE Consultation Assembly time varies depending on the racking kit you purchase and how handy you are putting items together. Need help? Call our Wine Storage Consultants at 800.377.3330 for a FREE consultation. Computer Design Want to create a wine cellar with Parallel Wine Racks? Send us a preliminary wine cellar sketch via email or fax. Then call us. We'll design your wine cellar for $99 with the design fee credited towards your purchase. Email:FloorPlans@WineEnthusiast.net Fax: 866.873.2510 Call: 800.377.3330
These were $895 at the time of this posting, but please click on the product link below to find the current price and availability.
Click Here to check price or purchase the Parallel Wine Racking Kit (Large) now !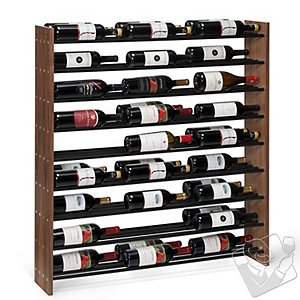 Go to Previous Item | BACK TO LIST | Go to Next Item
Thank you for visiting NYWINETIME! • BOOKMARK THIS SITE • Visit our Virtual Wine Shop
---
---
InActive Store





Parallel Wine Racking Kit (Large)