N'FINITY Wine Rack Kit - Arch Display (Natural Finish)
You may have arrived to this page from one of our sister sites . . . here's how to return:
americanwino.com | northwesternwine.com
---
nywinetime.com proudly presents:
The Wine Enthusiast
Go to Previous Item | BACK TO LIST | Go to Next Item
---
N'FINITY Wine Rack Kit - Arch Display (Natural Finish)
---
Wine Racks:Wooden Wine Racks
This is another trusted product from Wine Enthusiast. They have a great selection of wine gear, including the N'FINITY N'FINITY Wine Rack Kit - Arch Display (Natural Finish) presented on this page.
N'FINITY. Wine Racks Made Simple. In our effort to create the racking kits you always wanted Wine Enthusiast has developed N'FINITY Wine Racks—a collection many designers say looks even better than custom racking though it is offered at a fraction of the price. This Arch Display Rack Kit holds up to 3 shelves displaying your favorite accompiaments for any wine collection. Fits on Cabinet Base or Half Height Rack Dimensions: 38- 1/2' H x 27- 3/4' W x 12- 1/2' D (Base & crown molding add 1/2' additional to the depth for a total of 13-3/4'.) Solid Mahogany. Solid Value. N'FINITY wine racks offer both the beauty and richness of furniture-grade decor pieces and the lasting durability of a quality wine storage system. Solid Mahogany makes it possible. Choose from a hand-applied Natural Finish or Dark Walnut Stain. Clear coated. Finished look. Simpler assembly. Hidden pre-drilled fasteners make assembly easier leaving no unsightly screws or holes in the most visible areas. No putty needed. Base and crown moldings (included) provide a more finished 'custom' look. Assembly instructions and hardware included. Screwdriver not included. Nail gun and miter saw recommended only for applying optional face trim to Solid Diamond Cube and Diamond Bin Racks. Assembly time and difficulty level varies depending on racks purchased and skill set of each individual. FREE Consultation Assembly time varies depending on the racking kit you purchase and how handy you are putting items together. Need help? Call our Wine Storage Consultants at 800.377.3330 for a FREE consultation. FREE Computer Design Want to create a wine cellar with N'FINITY Wine Racks? Send us a preliminary wine cellar sketch via email or fax. Then call us. We'll design your wine cellar—a $99 value—for FREE! Email:FloorPlans@WineEnthusiast.net Fax: 866.873.2510 Call: 800.377.3330
These were $199.95 at the time of this posting, but please click on the product link below to find the current price and availability.
Click Here to check price or purchase the N'FINITY Wine Rack Kit - Arch Display (Natural Finish) now !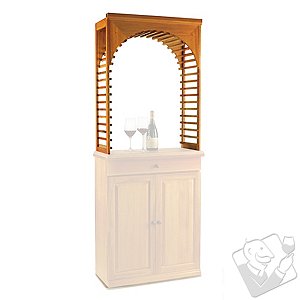 Go to Previous Item | BACK TO LIST | Go to Next Item
Thank you for visiting NYWINETIME! • BOOKMARK THIS SITE • Visit our Virtual Wine Shop
---
---
InActive Store





N'FINITY Wine Rack Kit - Arch Display (Natural Finish)