eSommelier Private Wine Management System
You may have arrived to this page from one of our sister sites . . . here's how to return:
americanwino.com | northwesternwine.com
---
nywinetime.com proudly presents:
The Wine Enthusiast
Go to Previous Item | BACK TO LIST | Go to Next Item
---
eSommelier Private Wine Management System
---
Wine Organization:Wine Collecting Tools & Kits
This is another trusted product from Wine Enthusiast. They have a great selection of wine gear, including the Other eSommelier Private Wine Management System presented on this page.
The best thing to happen to wine collecting Never before have collectors been able to manage their wine collection like this. The visual experience of exploring your wine represented by their beautiful label images gives you an intuitive and sophisticated way of managing your wine. Labels gently glide across the touch screen with the slide of a finger – letting you browse find and down-select the wine you are looking for. Pricing & Valuation on-demand Now you can not only see the price you paid for your wine but what it's worth. eSommelier regularly updates wine valuations and synchronizes that new data with your system giving you an on-going view of the value of your liquid investment by bottle or across the spectrum of your collection. Auto-assisting Data Entry Once you've entered the winery and vintage all the other data about your wine is automatically filled-in such as Country Region Variety Maturity Rating and Tasting Notes. Adding wine labels You can now add your own wine label or use one of the 30 000 wine label images already in the database Faster than ever Adding wine takes 10 seconds - removing wine takes 2. The 2.0 interface is faster more intuitive to use fun to browse and quicker in presenting you all the options as you pair down your search for that perfect bottle. Easy to add multiple bottles at the same time on the touch screen interface. Shopping in Bordeaux? When travelling or wine shopping you can access your wine data from any internet browser from anywhere in the world. You can also give your personal wine consultant remote access to your collection so that they can help you manage your collection and make buying selling or drinking recommendations. With the iPad's touch screen you can browse your wine in the same way as when you are at your eSommelier system. Wine Ratings & Reviews Enter your own wine ratings and tasting notes for future reference. These can now be entered on the Spreadsheet upload software. You can also search will known wine tasting notes and add those notes to your wine data. Size: Monitor - 15-1/2'W x 12-1/2'H x 2'D; Scanner - 6-1/2'W x 12'H x 3-1/2'D; Printer - 5'W x 5-1/2'H x 7-1/4'D Printer includes 2 rolls of 250 labels.
These were $3995 at the time of this posting, but please click on the product link below to find the current price and availability.
Click Here to check price or purchase the eSommelier Private Wine Management System now !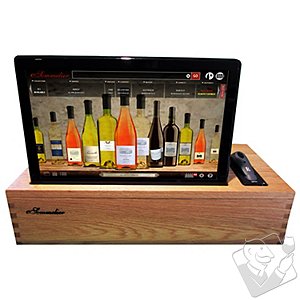 Go to Previous Item | BACK TO LIST | Go to Next Item
Thank you for visiting NYWINETIME! • BOOKMARK THIS SITE • Visit our Virtual Wine Shop
---
---
InActive Store





eSommelier Private Wine Management System