Ullo Wine Purifier & Decanter Set
You may have arrived to this page from one of our sister sites . . . here's how to return:
americanwino.com | northwesternwine.com
---
nywinetime.com proudly presents:
The Wine Enthusiast
Go to Previous Item | BACK TO LIST | Go to Next Item
---
Ullo Wine Purifier & Decanter Set
---
Aerators:Wine Aerators
This is another trusted product from Wine Enthusiast. They have a great selection of wine gear, including the Ullo Ullo Wine Purifier & Decanter Set presented on this page.
A true advancement the Üllo Wine Purifier instantly restores the natural taste of wine. The purification power of Selective Sulfite Capture™ technology combines with an adjustable wine aerator a single intuitive design that respects the simplicity and ritual of wine. INCLUDED Üllo Wine Purifier Travel bag Display base 6 Selective Sulfite Capture™ filters Üllo is a revolutionary wine purifier that uses Selective Sulfite Capture™ technology to remove sulfites and sediments bringing wine back to its natural state. Sulfites are added to all wine varietals as a preservative. Üllo works with any still wine to remove sulfites the moment their job is done. Designed to effortlessly amplify red wine the Üllo Decanter is engineered with balanced proportions for optimal air exposure and easily controlled pouring. It's red wine's great awakening. Dishwasher safe BPA-free materials Filters made in the US Filters are for 1 single 750ml bottle Purifier Dimensions: 5 7/8'H x 4 3/8'W Decanter Dimensions: 10 3/4'H x 7 5/8'W 1. POUR All wine contains sulfites which are artificial preservatives added during production. They are no longer needed once the bottle is opened. 2. PURIFY Proprietary polymer technology filters away free sulfites and their bitter taste while allowing other compounds in wine to flow through unaffected. 3. PURE WINE Through Selective Sulfite Capture™ free sulfites are reduced to a more naturally occurring level for most wines. BY THE GLASS The Üllo purifier is designed to fit on top of a variety of wine glasses. BY THE BOTTLE Made from hand-blown glass the Üllo carafe and decanter are the perfect fit. NO DRIPS Return Üllo to its base to capture any unruly drips.
These were $149.95 at the time of this posting, but please click on the product link below to find the current price and availability.
Click Here to check price or purchase the Ullo Wine Purifier & Decanter Set now !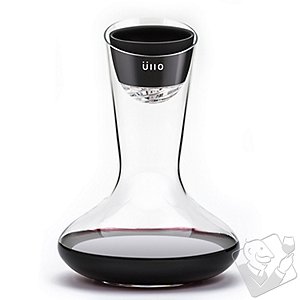 Go to Previous Item | BACK TO LIST | Go to Next Item
Thank you for visiting NYWINETIME! • BOOKMARK THIS SITE • Visit our Virtual Wine Shop
---
---
InActive Store





Ullo Wine Purifier & Decanter Set