Coravin Model Two Gift Set
You may have arrived to this page from one of our sister sites . . . here's how to return:
americanwino.com | northwesternwine.com
---
nywinetime.com proudly presents:
The Wine Enthusiast
Go to Previous Item | BACK TO LIST | Go to Next Item
---
Coravin Model Two Gift Set
---
Preservation:Preservation & Dispensing
This is another trusted product from Wine Enthusiast. They have a great selection of wine gear, including the Coravin Coravin Model Two Gift Set presented on this page.
The Coravin Model Two Gift Set is the ultimate Coravin experience. This revolutionary Wine System pours wine without removing the cork so you can enjoy the rest of the bottle another day. The Model Two features a brushed graphite finish with metallic accents - a perfect complement to your kitchen counter or bar cart! This bundle pack includes Coravin Capsules and accessories to help you get the most out of your System at home and on the go: HOW CORAVIN WORKS ACCESS Select a bottle of wine to enjoy (make sure it's cork-sealed). Place your Coravin System on top and push the needle through. POUR Ensuring that the bottle is at a 45 degree angle press the trigger to pressurize and release it to pour wine into your glass. Tilt the bottle back to stop the pour. ENJOY Remove the needle by pulling the Coravin System straight up. The cork will reseal naturally and continue to protect the wine for many future pours to come. Best-in-class wine system keeps your wine safe from oxidation allowing it to continue to age naturally.Non-coring faster pouring needle allows access to wine without cork damage allowing it to reseal and continue protecting the wine.Argon gas an inert gas used in the wine-making process protects the remaining wine from oxidation. Proprietary capsule cap creates a tight seal between capsule and product.Press the trigger to pressurize the bottle release to let wine pour out. Ergonomic handle and angled spout make wine pouring easy.Bottle clamp with grips makes it easy to attach providing a secure hold on the bottle ensuring the system remains stable while pouring. Fits on a variety of sized standard bottles. What's in the box: Coravin Model Two Wine System (Graphite) 2 Premium Coravin Capsules - Coravin Capsules are specifically designed for use with all Coravin Systems ensuring the perfect seal and the perfect pour every time. Pressurizing bottles with argon gas to pour wine a glass at a time Coravin Capsules are the power source of the Coravin System and a fundamental component of the Coravin Technology. Each Coravin Capsule pours 15 5-oz glasses of wine. Three Precision Coravin Needles (Faster Pour Needle Vintage Needle and Replacement Standard Needle) - The Coravin Three Needle Kit contains three different Coravin Wine System needles providing you with a needle for any bottle or situation. All Coravin Wine System Needles are stainless steel and Teflon™ coated providing durability and easy insertion for over hundreds of pours. Premium Base - The Coravin Premium Base is an elegant way to display your Coravin Wine System while keeping Coravin Capsules and Coravin Needles at your fingertips. The Premium Base is constructed from zinc with a matte silver finish and features a durable drawer to safely house three needles and a needle clearing tool. Three Coravin Capsules can be easily stored in spaces at the top of the Base. Carry Case - Designed especially for the Coravin System this durable and stylish carry case is a convenient way to bring your Coravin System from place to place. The soft-lined carry case is compact for easy transport of your Coravin System plus. Inside are pockets for holding two additional Coravin Capsules.
These were $399.95 at the time of this posting, but please click on the product link below to find the current price and availability.
Click Here to check price or purchase the Coravin Model Two Gift Set now !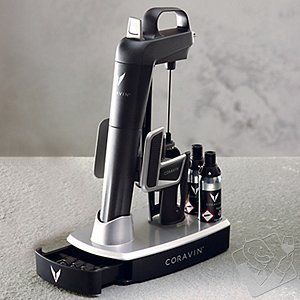 Go to Previous Item | BACK TO LIST | Go to Next Item
Thank you for visiting NYWINETIME! • BOOKMARK THIS SITE • Visit our Virtual Wine Shop
---
---
InActive Store





Coravin Model Two Gift Set