Coravin 1000 Needle Assortment Kit
You may have arrived to this page from one of our sister sites . . . here's how to return:
americanwino.com | northwesternwine.com
---
nywinetime.com proudly presents:
The Wine Enthusiast
Go to Previous Item | BACK TO LIST | Go to Next Item
---
Coravin 1000 Needle Assortment Kit
---
Preservation:Preservation & Dispensing
This is another trusted product from Wine Enthusiast. They have a great selection of wine gear, including the Coravin Coravin 1000 Needle Assortment Kit presented on this page.
The Coravin Needle Assortment Kit includes all three Coravin 1000 wine access needles and a needle clearing tool to ensure you are prepared for any bottle or situation. All Coravin wine access needles are stainless steel and Teflon® coated providing durability and easy insertion over hundreds of pours. WHAT'S IN THE BOX Coravin 1000 Standard Needle Coravin 1000 Faster Pour Needle Coravin 1000 Vintage Needle Needle Clearing Tool Features Teflon® Coating Alows for effortless insertion and removal of the needle through the cork when using the Coravin System. Medical Grade Minimizes disruption to the cork effectively allowing the cork to reseal completely after the needle is removed. Coravin's Wine Access Needle design was inspired by non-coring biopsy needles which are delicate enough to be used during surgical procedures. Textured Grip Surface Allows for quick removal and replacement with a different needles as required
These were $69.95 at the time of this posting, but please click on the product link below to find the current price and availability.
Click Here to check price or purchase the Coravin 1000 Needle Assortment Kit now !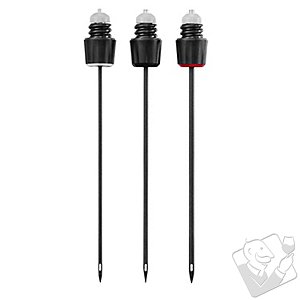 Go to Previous Item | BACK TO LIST | Go to Next Item
Thank you for visiting NYWINETIME! • BOOKMARK THIS SITE • Visit our Virtual Wine Shop
---
---
InActive Store





Coravin 1000 Needle Assortment Kit