WineStation Pristine Plus Wine Preservation System
You may have arrived to this page from one of our sister sites . . . here's how to return:
americanwino.com | northwesternwine.com
---
nywinetime.com proudly presents:
The Wine Enthusiast
Go to Previous Item | BACK TO LIST | Go to Next Item
---
WineStation Pristine Plus Wine Preservation System
---
Preservation:Preservation & Dispensing
This is another trusted product from Wine Enthusiast. They have a great selection of wine gear, including the Napa Technology WineStation Pristine Plus Wine Preservation System presented on this page.
Napa Technology has created the Wine Station Pristine PLUS as an exquisite wine serving solution that lets you enjoy the freshest wine each and every time. This sophisticated professional quality temperature-controlled system is perfect for keeping your premium wines in pristine condition allowing you to enjoy the freshest wine any time you choose. Standard features include 60 day wine preservation Patented Clean Pour dispensing technology three pour size options- taste half full glass state of the art thermo-electric cooling system high res LCD display dual safety lock features designed for counter top or built in installation. Dimensions: 25- 1/2″ H X 19- 5/8″ W X 16″ D Standard Features: 60 Day Wine Preservation The WineStation not only offers 60 day wine preservation when bottles are inside the system but can also preserve wine bottles outside of the system for 14 days. State-of-the-art Thermo Electric Cooling System WineStation's environmentally friendly; state-of-the-art cooling system provides precise temperature control without the need of any plumbing condensers compressors or chemicals. Clean-Pour Dispensing Heads Napa Technology's patented Clean- Pour dispensing head design eliminates the need for messy internal tubing making the WineStation the only truly hygienic dispensing system in the world. Three Pour Size Options: Taste Half and Full Glass WineStation lets you choose the right wine and pour size to fit your mood. For each wine bottle you are able to set three pour volumes customizable by the half ounce. Select from a taste half or full glass pour that is just right for you and your guests. High Resolution LCD displays Napa Technology designed WineStation with the latest state-of-the-art touch panel technology giving you the type of intuitively easy operation that is as simple as touching a button. The LCD screens allow you to display wine varietals as well as manage temperature settings and pour size volumes. Dual Safety Lock Features WineStation's locking door service as well as lock feature on the LCD control panel gives you security and peace of mind. Designed For Both Built-In and Counter-top Applications WineStation is designed to support both freestanding and built in applications. Simply plug in and with the push of a button begin pouring the perfect glass of wine every time. Please note drip tray and canisters are NOT included. Both are sold separately Please not this unit is intended for residential use only
These were $5000 at the time of this posting, but please click on the product link below to find the current price and availability.
Click Here to check price or purchase the WineStation Pristine Plus Wine Preservation System now !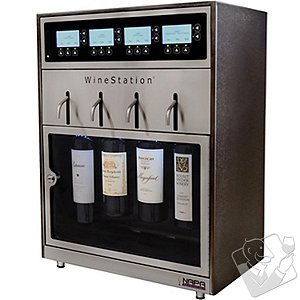 Go to Previous Item | BACK TO LIST | Go to Next Item
Thank you for visiting NYWINETIME! • BOOKMARK THIS SITE • Visit our Virtual Wine Shop
---
---
InActive Store





WineStation Pristine Plus Wine Preservation System