Cigar Infusion Barrel Humidor
You may have arrived to this page from one of our sister sites . . . here's how to return:
americanwino.com | northwesternwine.com
---
nywinetime.com proudly presents:
The Wine Enthusiast
Go to Previous Item | BACK TO LIST | Go to Next Item
---
Cigar Infusion Barrel Humidor
---
Home Décor:Mini Oak Wine Barrels
This is another trusted product from Wine Enthusiast. They have a great selection of wine gear, including the Other Cigar Infusion Barrel Humidor presented on this page.
Cigar Humidor Barrel An oak barrel that infuses cigars with the flavor of their favorite spirits. Just moisten the staves with the whiskey scotch bourbon or essence of choice and give the cigars a few days to soak it all in. Simply spray the essence in the infusion barrel enough to wet and be absorbed by the barrel staves. Place your favorite cigars in the barrel and close the top. Allow a minimum of 2 days in the barrel and the cigars will absorb the flavor of your spirits. Cigar Infusion Barrels come with the Original Tobacco Tiddi® Humidification System to maintain the 70% humidity levels required to keep cigars at their freshest. The humidification process is actually controlled by the nontoxic chemicals charged into the Crystals in the factory. Each Tiddi lasts 60 to 90 days. Comes with: Cigar Barrel ( select 2 3 or 5 liter) 2 Tobacco Tiddies Set of 3 Essence flavors: Kentucky Bourbon Spiced Rum Highland Malt Scotch Dimensions: 2 Liter 7- 1/2' H X 5' W X 5' D 3 Liter 8- 1/2' H X 5- 1/2' W X 5- 1/2' D 5 Liter 9- 1/2' H W 6.- 1/2' W X 6- 1/2' D
These were $89.95 at the time of this posting, but please click on the product link below to find the current price and availability.
Click Here to check price or purchase the Cigar Infusion Barrel Humidor now !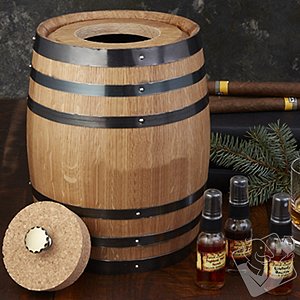 Go to Previous Item | BACK TO LIST | Go to Next Item
Thank you for visiting NYWINETIME! • BOOKMARK THIS SITE • Visit our Virtual Wine Shop
---
---
InActive Store





Cigar Infusion Barrel Humidor