Siena Wine Credenza (Walnut) with Wine Refrigerator
You may have arrived to this page from one of our sister sites . . . here's how to return:
americanwino.com | northwesternwine.com
---
nywinetime.com proudly presents:
The Wine Enthusiast
Go to Previous Item | BACK TO LIST | Go to Next Item
---
Siena Wine Credenza (Walnut) with Wine Refrigerator
---
Bars & Consoles:Credenzas
This is another trusted product from Wine Enthusiast. They have a great selection of wine gear, including the Siena Wine Credenzas Siena Wine Credenza (Walnut) with Wine Refrigerator presented on this page.
Let impassioned Italian design steal your heart. Leave it to Italy's finest craftsmen to make you fall in love with furniture. This premium- quality wine credenza is hand-made from tulip and walnut hardwoods then hand-stained in rich nero color with patina applications. Accented with solid brass hardware and features... Includes Evolution Series Beverage Center. 3 rolling wood shelves that hold 9 wine bottles each including larger Pinot Noir and Champagne bottles. 1 spacious storage area with a sliding pocket glass door adjustable shelves and room for our 9-glass Stemware Rack *. Also includes a deep rolling top drawer for even more storage. * Stemware rack sold separately. 2 sets of screws are included with the stemware rack please use the shorter set of screws to ensure the table top of the Siena is kept in tact. Our Sienna Credenza is designed to fit our Evolution Series Beverage Center*Included*. Color swatches are available. To obtain one please contact a Sales or Customer Service Representative at 800.356.8466. Dimensions of Siena Credenza: 36'H X 75'W x 25'D **Important Note: When installing the 28 bottle units into your credenza you will need to remove the back panel. This easy process requires removing the screws from the back of the unit. *Note: Shelving is meant to hold standard Bordeaux size bottles using larger size bottles may limit the capacity. If you would like to store larger bottles you can easily remove any of the shelves. This will also prevent scraping the labels on the larger bottles.
These were $2595 at the time of this posting, but please click on the product link below to find the current price and availability.
Click Here to check price or purchase the Siena Wine Credenza (Walnut) with Wine Refrigerator now !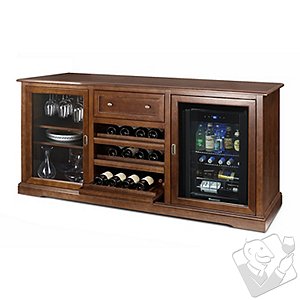 Go to Previous Item | BACK TO LIST | Go to Next Item
Thank you for visiting NYWINETIME! • BOOKMARK THIS SITE • Visit our Virtual Wine Shop
---
---
InActive Store





Siena Wine Credenza (Walnut) with Wine Refrigerator