XL Custom Wine Cellar Cabinet With EuroCave Premiere L Wine Cellar
You may have arrived to this page from one of our sister sites . . . here's how to return:
americanwino.com | northwesternwine.com
---
nywinetime.com proudly presents:
The Wine Enthusiast
Go to Previous Item | BACK TO LIST | Go to Next Item
---
XL Custom Wine Cellar Cabinet With EuroCave Premiere L Wine Cellar
---
Wine Refrigerators:Furniture-Style Wine Cabinets
This is another trusted product from Wine Enthusiast. They have a great selection of wine gear, including the Other XL Custom Wine Cellar Cabinet With EuroCave Premiere L Wine Cellar presented on this page.
Give your wine cellar the home it deserves Transform your wine cellar into a stunning piece of furniture that will add character to any room in your home. Handcrafted and made to order from solid American Oak. Available with or without side shelving in either walnut finish or natural oak. Includes EuroCave Premiere L Wine Cellar Glass Door Dimensions With Shelves: 80'H x 42'W x 32'D Dimensions Without Shelves: 80'L x 34'W x 32'D Alternate wine cellar and door styles are available with the Custom Wine Cellar Cabinet as well as fully customized Wine Cellar Cabinet options. Please call 800.356.8466 to speak with a Wine Enthusiast Storage Specialist with any questions. Unleashing a new level of style and value the EuroCave Premiere Line of Wine Cellars will impress with their sleek modern design and economical energy efficiency. EuroCave Premiere Cellars help to create the climate of a natural deep French wine cave providing an ideal long term storage aging environment. With advanced features such as precise temperature setting capability visual and audible alarms increased overall energy efficiency and nearly silent decibel levels the Premiere cellars have everything you would expect from EuroCave. Enjoy the illuminating detachable display lighting which will showcase your entire collection or allow you to closely examine every label in your EuroCave cellar. Available in various attractive door styles all with a discretely concealed handle and robust locking system the new line of Premiere Wine Cellars welcomes you to take your first step to discover all that EuroCave has to offer. EuroCave Premiere Core Features: Digital Control Panel with Alarm Notifications Sophisticated and sleek control panel offers sensitive touch buttons and along with a visual alarm system. Improved Energy Consumption and Acoustic Levels Improved Energy Consumption and Acoustic Levels.Stylish Door Styling with Integrated Handle and Locking System With an integrated handle concealed in the side and top of the door along with a robust full locking mechanism these cellar provide style security and stability.Detachable Cellar Lighting System You can showcase your entire collection or read a specific label on that special bottle from your collection the choice is yours. MDS Adjustable Shelving System Main du Sommelier ('Hand of the Sommelier') shelving features 12 adjustable 'hands' that cradle your bottles individually and securely just as a restaurant sommelier would. Each individual hand is a slightly concave bottle-holder lined with rubber insets to prevent bottles from rolling rattling or clinking together when sliding the shelf (in or out).
These were $5490 at the time of this posting, but please click on the product link below to find the current price and availability.
Click Here to check price or purchase the XL Custom Wine Cellar Cabinet With EuroCave Premiere L Wine Cellar now !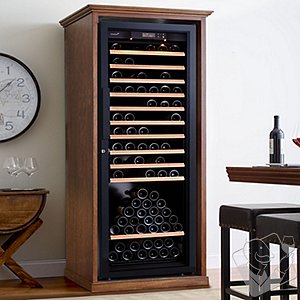 Go to Previous Item | BACK TO LIST | Go to Next Item
Thank you for visiting NYWINETIME! • BOOKMARK THIS SITE • Visit our Virtual Wine Shop
---
---
InActive Store





XL Custom Wine Cellar Cabinet With EuroCave Premiere L Wine Cellar