Grapevine Dining Table Round
You may have arrived to this page from one of our sister sites . . . here's how to return:
americanwino.com | northwesternwine.com
---
nywinetime.com proudly presents:
The Wine Enthusiast
Go to Previous Item | BACK TO LIST | Go to Next Item
---
Grapevine Dining Table Round
---
Wine Furniture:Tables
This is another trusted product from Wine Enthusiast. They have a great selection of wine gear, including the Other Grapevine Dining Table Round presented on this page.
These retired grapevines have brought joy to generations of wine drinkers. Though their winemaking days are behind them their distinctive character lasts on. Decades of careful cultivation combined with the vines natural tendency to create their own whimsical chaos yields striking compositions. With some careful shaping and finishing each piece becomes a work of art suitable for warming the heart of a true wine lover. This round Dining Table is only standard in height. It has remarkable movement in each piece drawing the eye upwards. Decades of wine producing have aged this wood with all the striations of color from drawing the rich nutrients from the soil. Each piece is built in a circular pattern to highlight the dynamic colors of the vine. These giant vines were planted between 1907-1911 and were making wine during prohibition. The Italian family that was growing these had several hot rod cars used to elude the police and sold their ''grape Juice'' from San Diego to San Fransisco. After prohibition they started selling their excess grapes to Mondavi Gallo and other wine families who were just starting out developing the wine industry into what it is today.Dimensions: 29' H X 48' Dia. Please Note: These items are hand made and no two are alike. Some variations in size color and shape may occur ** Glass ships separately via ground courier and may arrive up to two weeks after the table base **
These were $2995 at the time of this posting, but please click on the product link below to find the current price and availability.
Click Here to check price or purchase the Grapevine Dining Table Round now !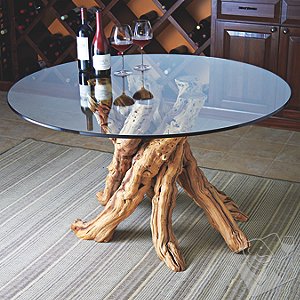 Go to Previous Item | BACK TO LIST | Go to Next Item
Thank you for visiting NYWINETIME! • BOOKMARK THIS SITE • Visit our Virtual Wine Shop
---
---
InActive Store





Grapevine Dining Table Round