Tequila Barrel Stave Stool with Leather Seat
You may have arrived to this page from one of our sister sites . . . here's how to return:
americanwino.com | northwesternwine.com
---
nywinetime.com proudly presents:
The Wine Enthusiast
Go to Previous Item | BACK TO LIST | Go to Next Item
---
Tequila Barrel Stave Stool with Leather Seat
---
Bars & Consoles:Stools
This is another trusted product from Wine Enthusiast. They have a great selection of wine gear, including the Other Tequila Barrel Stave Stool with Leather Seat presented on this page.
Using Reclaimed Tequila Barrels is just one way to help conserve the planets natural resources and the tequila stool with leather seat is a great example of utilizing these beautiful barrels for future generations. The warm natural colors created from the aging process of Tequila gives these stools a unique and one of a kind color which is then protected with a protective varnish. The stool is covered in and stretched leather and adorned upon a black cast iron base that gives a solid presence to the piece. One (1) Stool per order Please Note: These item(s) are hand crafted and NO two are alike. Each may very in size and weight Approximate Net Weight: 88 Lbs. Materials: White Oak Wood Cast Iron Leather
These were $625 at the time of this posting, but please click on the product link below to find the current price and availability.
Click Here to check price or purchase the Tequila Barrel Stave Stool with Leather Seat now !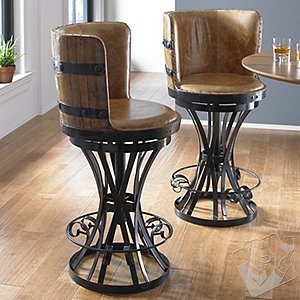 Go to Previous Item | BACK TO LIST | Go to Next Item
Thank you for visiting NYWINETIME! • BOOKMARK THIS SITE • Visit our Virtual Wine Shop
---
---
InActive Store





Tequila Barrel Stave Stool with Leather Seat