EuroCave Royale Wine Cellar
You may have arrived to this page from one of our sister sites . . . here's how to return:
americanwino.com | northwesternwine.com
---
nywinetime.com proudly presents:
The Wine Enthusiast
Go to Previous Item | BACK TO LIST | Go to Next Item
---
EuroCave Royale Wine Cellar
---
Wine Refrigerators:101 - 200 Bottle Wine Refrigerators
This is another trusted product from Wine Enthusiast. They have a great selection of wine gear, including the Other EuroCave Royale Wine Cellar presented on this page.
Over the past 40 years Eurocave has been devoted to the research and development of durable products that ensure optimal wine maturing for its customers. Which is why one day they set out to design THE BEST WINE CELLAR IN THE WORLD. "Today we are proud to say that we have succeeded in channeling all of our wine maturation know-how and expertise into designing an exceptional wine cabinet Royale." - Sebastien Bussonnière Researcher EuroCave engineering and design department Just like a wise man guiding his disciples Royale whose intrinsic functions are close to perfect transmits to its precious bottles all of the knowledge expertise and skill that EuroCave has developed over the past 40 years. In this way your fine wines will be able to reach their long-awaited prime. Wine maturing is the time it takes for wine to improve fully develop its qualities and reach the stage in which it fully expresses itself i.e. reaches its prime! An Unparalleled Design Like a jeweler carefully working on a unique precious jewel EuroCave's hands have paid meticulous attention to every detail of Royale. Autonomous Humidity Control & Regulation System Thanks to the patented "Hygrocontrol System" the Royale holds a stable Humidity of 70% at all times with no adjustments or settings needed. Ideal Aging Temperature.... Automatically 53°F is the ideal aging temperature observed in natural cellars. The Royale holds a perfect 53°F with a maximum fluctuation of +/-5°F all automatically no temperature settings required. Controlled Air Quality The new generation of charcoal filter allows for the highest air quality possible. The filter traps Organic Volatile Compounds reducing smells and toxicity inside the wine cellar. After 3 months of use 70% of the organic volatile compounds are trapped and the air inside your Royale is cleaner than the room! Limited Vibrations Every detail of the Royale has been designed to reduce vibration and allow your wine to age naturally without damage. Attenuated Vibration Details: - Compressor is isolated from the cabinet and lies on high performance silent blocs which help deaden vibration transmission - Bi-material feet designed to absorb external vibrations - The evaporator is embedded in a polyurethane foam - The shelves do not touch the rear wall - The sliding guides reduce vibrations (shelf does not directly touch the inner walls) - The feet of the cabinet are individually adjustable and offer perfect stability The Alarms Stay on top of your Wine Cellar. A full set of notifications will let you know what is happening with your Royale. - Temperature Alarm - Low Humidity Alarm - High Humidity Alarm - Humidity Sensor Fault Alarm - Temperature Sensor Fault Alarm - Open Door Alarm - Charcoal Filter Replacement Triple Glazed Door with Argon Gas Thanks to the triple glazed door with argon gas more than 99% of the UV rays are filtered Prevents oxidation and maintains the integrity of all wine as extended exposure to harmful light and UV rays can cause spoilage and undesired flavor characteristics in your most prized wines.
These were $13995 at the time of this posting, but please click on the product link below to find the current price and availability.
Click Here to check price or purchase the EuroCave Royale Wine Cellar now !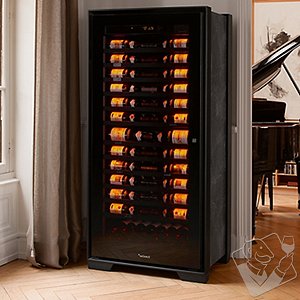 Go to Previous Item | BACK TO LIST | Go to Next Item
Thank you for visiting NYWINETIME! • BOOKMARK THIS SITE • Visit our Virtual Wine Shop
---
---
InActive Store





EuroCave Royale Wine Cellar