EuroCave Elite Revelation Wine Cellar
You may have arrived to this page from one of our sister sites . . . here's how to return:
americanwino.com | northwesternwine.com
---
nywinetime.com proudly presents:
The Wine Enthusiast
Go to Previous Item | BACK TO LIST | Go to Next Item
---
EuroCave Elite Revelation Wine Cellar
---
Wine Refrigerators:Furniture-Style Wine Cabinets
This is another trusted product from Wine Enthusiast. They have a great selection of wine gear, including the EuroCave EuroCave Elite Revelation Wine Cellar presented on this page.
Elite a range of wooden furniture for wine cabinets Furniture made by cabinet makers in solid oak or beech wood to house your wine cabinet. The ELITE cabinet range is the result of a partnership between EuroCave inventor of the wine cabinet in 1975 and a three generation family-run business of expert craftsmen specializing in high end cabinetry. This EuroCave solid wood furniture will sit perfectly in any of your living areas enhancing and adding character to your interior. Available: Solid in oak or beech wood 8 shades Full glass and solid door options Compatible: Pure range Revelation range The furniture is made to order and assembled with the cabinet (of your choice) at our factory located in the north of France. The type and shade of wood To ensure that your furniture blends seamlessly with your interior decor you have the choice of 8 different shades. CHOCOLATEoak COGNACoak LIGHToak ELMbeech BLACKbeech MAHOGANYbeech NATUREbeech WHITEbeech   The Furniture 7 different configuration options are available to suit your interior. For a warm convivial atmosphere you can also opt for the bar module specially designed to house your glasses and spirits. For more information on alternate configurations please call 800.356.8466 to speak with a Wine Enthusiast specialist. A1 C1 C2 C4 C7 C8 C9 The Wine Cabinet Furniture specially designed to perfectly house the Pure and Revelation ranges. Choose the cabinet that suits your requirements from: small or large models in either maturing serving or multi-temperature units with a choice of interior layout of shelves. In addition the various Premium optional extras available give you even greater choice. Recognized throughout the world as the gold standard in wine cellars the new Revelation Wine Cellar from EuroCave is just that… a Revelation. The illuminating cellar display UV free lighting will beautifully yet safely showcase your prized collection. The revolutionary self-closing shelving system ensures your bottles encounter the least amount of vibration possible while the added space between shelves will keep those precious labels intact. Boasting a full 5 year parts and labor warranty an innovative new inventory labeling system as well as the highest energy efficiency rating of A+ the Revelation offers the true connoisseur wine storage in its highest and most luxurious form. EuroCave Revelation Core Features:5 Year WarrantyEuroCave Revelation is the only wine cellar on the market that carries a FULL 5 Year Warranty covering Parts and Labor. With a guarantee like that you can rest assured that your prized collection will remain safe and properly protected for years to come. Full Cabinet LightingSparkling presentation for your bottle this is what the Revelation offers. A patented strip of light all around the cabinet bathes your bottles in a halo of amber which dramatically highlights the inside of the cabinet. UV-Free lighting to safely accentuate your bottles.Most Energy EfficientEuroCave has created a wine cabinet that contributes to protecting the environment by reducing its energy consumption. Up to 55% less energy consumed compared to traditional wine cabinets. New MDS ShelvesSmooth Handling: By creating Revelation we wanted to offer a new generation interior layout for improved ergonomics and ease to use. Sliding shelf with capacity for up to 12 bottles.
These were $8999 at the time of this posting, but please click on the product link below to find the current price and availability.
Click Here to check price or purchase the EuroCave Elite Revelation Wine Cellar now !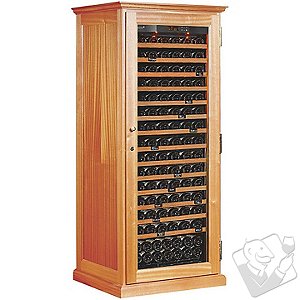 Go to Previous Item | BACK TO LIST | Go to Next Item
Thank you for visiting NYWINETIME! • BOOKMARK THIS SITE • Visit our Virtual Wine Shop
---
---
InActive Store





EuroCave Elite Revelation Wine Cellar