EuroCave Elite Pure Wine Cellar
You may have arrived to this page from one of our sister sites . . . here's how to return:
americanwino.com | northwesternwine.com
---
nywinetime.com proudly presents:
The Wine Enthusiast
Go to Previous Item | BACK TO LIST | Go to Next Item
---
EuroCave Elite Pure Wine Cellar
---
Wine Refrigerators:Full-Height Wine Cabinets
This is another trusted product from Wine Enthusiast. They have a great selection of wine gear, including the EuroCave EuroCave Elite Pure Wine Cellar presented on this page.
Elite a range of wooden furniture for wine cabinets Furniture made by cabinet makers in solid oak or beech wood to house your wine cabinet. The ELITE cabinet range is the result of a partnership between EuroCave inventor of the wine cabinet in 1975 and a three generation family-run business of expert craftsmen specializing in high end cabinetry. This EuroCave solid wood furniture will sit perfectly in any of your living areas enhancing and adding character to your interior. Available: Solid in oak or beech wood 8 shades Glass or solid door options Compatible: Pure range Revelation range The furniture is made to order and assembled with the cabinet (of your choice) at our factory located in the north of France. The type and shade of wood To ensure that your furniture blends seamlessly with your interior decor you have the choice of 8 different shades. CHOCOLATEoak COGNACoak LIGHToak ELMbeech BLACKbeech MAHOGANYbeech NATUREbeech WHITEbeech   The Furniture 7 different configuration options are available to suit your interior. For a warm convivial atmosphere you can also opt for the bar module specially designed to house your glasses and spirits. For more information on alternate configurations please call 800.356.8466 to speak with a Wine Enthusiast specialist. A1 C1 C2 C4 C7 C8 C9 The Wine Cabinet Furniture specially designed to perfectly house the Pure and Revelation ranges. Choose the cabinet that suits your requirements from: small or large models in either maturing serving or multi-temperature units with a choice of interior layout of shelves. In addition the various Premium optional extras available give you even greater choice. Most Energy EfficientEuroCave has created a wine cabinet that contributes to protecting the environment by reducing its energy consumption. Up to 55% less energy consumed compared to traditional wine cabinets.Touchscreen Controls with HygrometerSophisticated and sensitive controls allow you to set temperature precisely while getting accurate temperature and humidity read out.Active Humidity Control with Climate Control Alarm SystemThe combination of hygrometer lava rock cassette and alarm system make this the only wine cellar that allows for the humidity level to be raised and/or lowered. Also alerts you if the temperature or humidity fluctuates beyond acceptable levels.LED Amber LightingLow heat display LED lighting enables easy viewing of your wine collection and enhances the showcase feature of the display shelf. MDS Adjustable Shelving System Main du Sommelier ('Hand of the Sommelier') shelving features 12 adjustable 'hands' that cradle your bottles individually and securely just as a restaurant sommelier would. Each individual hand is a slightly concave bottle-holder lined with rubber insets to prevent bottles from rolling rattling or clinking together when sliding the shelf (in or out).
These were $7999 at the time of this posting, but please click on the product link below to find the current price and availability.
Click Here to check price or purchase the EuroCave Elite Pure Wine Cellar now !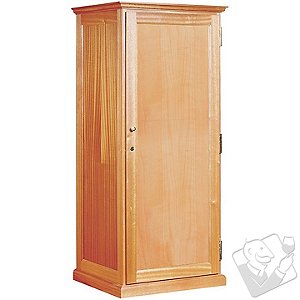 Go to Previous Item | BACK TO LIST | Go to Next Item
Thank you for visiting NYWINETIME! • BOOKMARK THIS SITE • Visit our Virtual Wine Shop
---
---
InActive Store





EuroCave Elite Pure Wine Cellar