N'FINITY PRO RED Wine Cellar
You may have arrived to this page from one of our sister sites . . . here's how to return:
americanwino.com | northwesternwine.com
---
nywinetime.com proudly presents:
The Wine Enthusiast
Go to Previous Item | BACK TO LIST | Go to Next Item
---
N'FINITY PRO RED Wine Cellar
---
Wine Refrigerators:N'FINITY Wine Coolers
This is another trusted product from Wine Enthusiast. They have a great selection of wine gear, including the N'FINITY N'FINITY PRO RED Wine Cellar presented on this page.
Professional Quality For The Home Introducing N'FINITY PRO RED The newest innovation in our N'FINITY PRO Series is a boon for red purists a cabinet specifically designed to store your reds as they were meant to be. The single zone protects your wine keeping the entire cellar at an optimal 55 F that allows it to mature to peak perfection. With our advanced technology adapted to this exclusive function our N'FINITY PRO RED is the best possible environment for long-term storage of your prized collection. N'FINITY PRO's advanced technology: Reduces vibration - leaves sediment undisturbed toward proper aging and a more balanced taste Reduces noise - you barely know it's there Increases energy efficiency - up to 40% more efficient than similar sized models Extends life span - professional grade components extend the life of your wine cellar Designed with unparalleled attention to detail: Smooth-rolling wood-front wire shelves Gently gliding on ball bearing tracks N'FINITY PRO low-flex shelves are designed to cradle bottles of Bordeaux [regular] size and larger including Pinot Noir Chardonnay and Champagne protecting labels from being scratched by the shelves above. Each N'FINITY PRO comes with a complete set of shelves. Cool blue LED interior lights Showcasing your collection we've fitted each N'FINITY PRO with a series of cool blue LED pin lights at the top of the cabinet to illuminate your wine with style. Which uses less energy and creates very low heat than standard lighting.
These were $1599 at the time of this posting, but please click on the product link below to find the current price and availability.
Click Here to check price or purchase the N'FINITY PRO RED Wine Cellar now !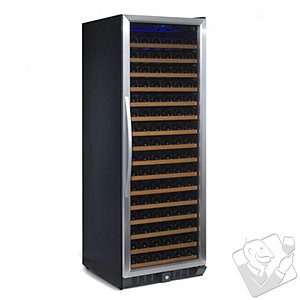 Go to Previous Item | BACK TO LIST | Go to Next Item
Thank you for visiting NYWINETIME! • BOOKMARK THIS SITE • Visit our Virtual Wine Shop
---
---
InActive Store





N'FINITY PRO RED Wine Cellar