EuroCave Wine Bar 8.0
You may have arrived to this page from one of our sister sites . . . here's how to return:
americanwino.com | northwesternwine.com
---
nywinetime.com proudly presents:
The Wine Enthusiast
Go to Previous Item | BACK TO LIST | Go to Next Item
---
EuroCave Wine Bar 8.0
---
Preservation:Vacuum/Pump Preservation
This is another trusted product from Wine Enthusiast. They have a great selection of wine gear, including the EuroCave EuroCave Wine Bar 8.0 presented on this page.
WINE BY THE GLASS SOLUTION Our wine by the glass serving machine allows you to store open bottles without any deterioration to their sensory qualities. With its 2 separate compartments the temperatures of which can be independently set from 43-64°F Wine Bar 8.0 has revolutionized serving wine by the glass! It stores your bottles at an ideal serving temperature (8 bottles ready for use and 6 spare bottles) and showcases your wine by the glass selection thanks to its clean contemporary lines. In order to obtain high quality wine by the glass service and respect the tradition of serving and suggesting wines each bottle placed in the Wine Bar 8.0 can be held allowing you to serve the wine from the bottle at the customer's table. Thanks to its air vacuum system your wine is protected from any risk of oxidation for up to 10 days after being opened. WINE BY THE GLASS SERVICE Preserving open bottles and bringing your wine to the correct serving temperature Opting for a EuroCave Professional wine by the glass serving product is your guarantee that your wine will be perfectly preserved and stored at the correct serving temperature... It is choosing a high-tech product to protect your bottles from oxidation and in this way guaranteeing that your wine will be served with its flavors intact which will delight your customers from the first to the last glass. Eight bottles at an ideal serving temperature (4 white/4 red or 8 white or 8 red) plus 6 extra bottles ready to be served. For wine to fully express its flavors it must be served at the correct temperature. In this way red wines need to be stored at around 61°F white or rosé wines at around 46°F. Tasting qualities preserved for several days after opening thanks to an innovative air vacuum system. With Wine Bar 8.0 you enhance your wine by the glass service: during service our exclusive solution allows you to hold the bottles to ensure a personal service at the table for your customers; and when your bottles are placed in the appliance completely protected Wine Bar 8.0 dramatically displays them thanks to its elegant glass doors and multi-color LED lighting. It then becomes an extremely attractive wine list!
These were $5999 at the time of this posting, but please click on the product link below to find the current price and availability.
Click Here to check price or purchase the EuroCave Wine Bar 8.0 now !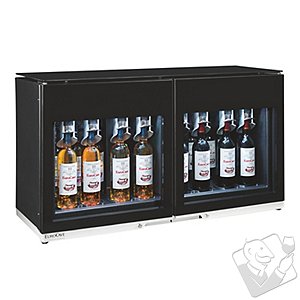 Go to Previous Item | BACK TO LIST | Go to Next Item
Thank you for visiting NYWINETIME! • BOOKMARK THIS SITE • Visit our Virtual Wine Shop
---
---
InActive Store





EuroCave Wine Bar 8.0