EuroCave Deluxe Package (Performance & Comfort Series) (Beech)
You may have arrived to this page from one of our sister sites . . . here's how to return:
americanwino.com | northwesternwine.com
---
nywinetime.com proudly presents:
The Wine Enthusiast
Go to Previous Item | BACK TO LIST | Go to Next Item
---
EuroCave Deluxe Package (Performance & Comfort Series) (Beech)
---
Storage Accessories:Wine Cellar Shelves
This is another trusted product from Wine Enthusiast. They have a great selection of wine gear, including the EuroCave EuroCave Deluxe Package (Performance & Comfort Series) (Beech) presented on this page.
The ultimate add-on! Our EuroCave Deluxe Package gives you everything you need for maximum convenience and 5 full years of worry-free enjoyment. And—you SAVE! The total components of our EuroCave Deluxe Package cost LESS than if you bought each item individually. The EuroCave Comfort or Performance Wine Cellar you purchase offers a host of standard features. Add on the EuroCave Deluxe Package and you get... 3 Extra MDS Rolling Shelves for more configuration options. These revolutionary MDS (Main du Sommelier) shelves also feature individual 'hands' that cradle and protect your bottles and promote sustained temperature and humidity circulation. Learn more. 4 Extra Charcoal Filters to cover your annual replacements. Your wine cellar already comes with a filter so you're equipped for 5 years of fast easy maintenance. Charcoal filters ensure the natural ventilation and humidity control that encourage wine to mature properly free from damaging odors. Learn more. 5-Year Extended Service Plan for complete in-home coverage. The standard warranty on your wine cellar is 5 years on the compressor and 1 year on parts and labor. With the Extended Service Plan you get 5-year coverage for everything: in-home service parts and labor. It all adds up to versatility value and peace of mind! NOTE: Due to warranty restrictions the EuroCave Deluxe Package is available for purchase only within 30 days of purchasing a EuroCave Comfort or Performance Wine Cellar. Call a Wine Storage Consultant at 800.377.3330 for other package options beyond this 30-day period. This item is specifically for EuroCave Performance (excluding Built-In) Comfort Digital Comfort Elite and Premier series. (EuroCave Wine Chamber does not use MDS Rolling Shelves or Charcoal Filters.)
These were $599.95 at the time of this posting, but please click on the product link below to find the current price and availability.
Click Here to check price or purchase the EuroCave Deluxe Package (Performance & Comfort Series) (Beech) now !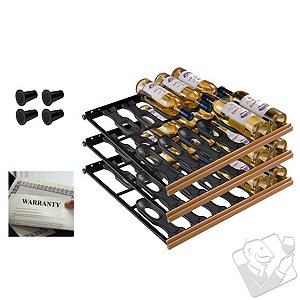 Go to Previous Item | BACK TO LIST | Go to Next Item
Thank you for visiting NYWINETIME! • BOOKMARK THIS SITE • Visit our Virtual Wine Shop
---
---
InActive Store





EuroCave Deluxe Package (Performance & Comfort Series) (Beech)