EuroCave Main du Sommelier Rolling Shelves (Set of 3)
You may have arrived to this page from one of our sister sites . . . here's how to return:
americanwino.com | northwesternwine.com
---
nywinetime.com proudly presents:
The Wine Enthusiast
Go to Previous Item | BACK TO LIST | Go to Next Item
---
EuroCave Main du Sommelier Rolling Shelves (Set of 3)
---
Storage Accessories:Wine Cellar Shelves
This is another trusted product from Wine Enthusiast. They have a great selection of wine gear, including the EuroCave EuroCave Main du Sommelier Rolling Shelves (Set of 3) presented on this page.
This shelf is designed for EuroCave Performance and Comfort Series Wine Cellars. Revolutionary Design! Individual 'hands' cradle and protect your bottles! No more rolling bottles or rattling glass! EuroCave makers of the world's finest wine cellars have introduced another breakthrough in wine storage Main Du Sommelier shelving. A must-have for every EuroCave owner Main du Sommelier ('Hand of the Sommelier') shelving features 12 adjustable 'hands' that cradle your bottles individually and securely just as a restaurant sommelier would. Each individual hand is a slightly concave bottle-holder lined with rubber insets to prevent bottles from rolling rattling or clinking together when sliding the shelf (in or out). Unprecedented Benefits Adjusts to accommodate different bottle shapes and sizes! EuroCave engineers recognize that wine owners have collections of varying bottle shapes and sizes. To accommodate this each hand of the Main du Sommelier (MDS) can slide along the width of the shelf allowing you to create proper spacing between each bottle. To shelve bottles larger than standard Bordeaux size (750mL) either slide the hands to make the appropriate spatial adjustments or remove a hand or two entirely (depending on your needs)*—no other shelf can do this. Promotes sustained humidity and uniform temperature! Keeping bottles secure and spaced properly improves bottle stability and air circulation within the cabinet helping to maintain humidity and uniformity of temperature. So now every bottle is fully exposed to optimum storage conditions within the cellar. New Wood New Color Eco-Certified! The front trim of the MDS rolling shelf is made of eco-certified beechwood sourced from sustainable forests to support healthy ecosystems. The new beechwood trim is slightly lighter in color than EuroCave's original sapele trim. If you'd like to upgrade your existing EuroCave with new MDS rolling shelves we suggest purchasing a full set to assure all of your shelves match. Upgrade Your EuroCave! Main du Sommelier Rolling Shelves now come standard in all EuroCave Performance wine cellars. MDS shelves although compatible with Digital Comfort and Premier are sold separately. Current EuroCave owners can upgrade their existing units with MDS shelves immediately. *Note: The average maximum capacity for the MDS shelf is 12 standard-size 750mL Bordeaux bottles. Storing larger bottles such as Pinot Noir and Rhone may decrease shelf capacity. Not compatible with the Built In 59 Series Units.
These were $199.95 at the time of this posting, but please click on the product link below to find the current price and availability.
Click Here to check price or purchase the EuroCave Main du Sommelier Rolling Shelves (Set of 3) now !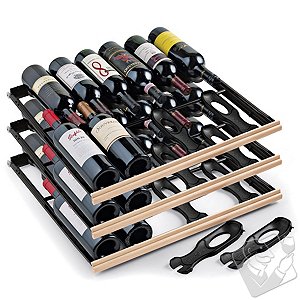 Go to Previous Item | BACK TO LIST | Go to Next Item
Thank you for visiting NYWINETIME! • BOOKMARK THIS SITE • Visit our Virtual Wine Shop
---
---
InActive Store





EuroCave Main du Sommelier Rolling Shelves (Set of 3)