EuroCave Professional 5059 Wine Cellar
You may have arrived to this page from one of our sister sites . . . here's how to return:
americanwino.com | northwesternwine.com
---
nywinetime.com proudly presents:
The Wine Enthusiast
Go to Previous Item | BACK TO LIST | Go to Next Item
---
EuroCave Professional 5059 Wine Cellar
---
Wine Refrigerators:Built-In & Under Counter Wine Refrigerators
This is another trusted product from Wine Enthusiast. They have a great selection of wine gear, including the EuroCave EuroCave Professional 5059 Wine Cellar presented on this page.
Serving Wine Cabinet Thanks to its temperature graduated from 5 to 22°C this multi-temperature cabinet is ideal for the service of your wine. It has a temperature graduated from the top to the bottom ideal for storing all of your bottles at a perfect serving temperature within one same cabinet. This cabinet model from EuroCave Professional's Series 5000 Compact range was designed to meet the requirements of small spaces. Thanks to its compact size it easily fits into the most limited spaces. Function: Service Number of temperatures: Single or Multi-temperature Size: Small model Colour of cabinet body: Nero Type of door: Glass black frame In order to facilitate storage and access to your bottles this cabinet is available with 4 sliding shelves fitted with 'Main du Sommelier' bottle supports. With this equipment it has the capacity to store 38 bottles THE WINE CABINET Your wine cabinet's interior layout: The Premium pack is made up of 4 sliding shelves for a capacity of 38 bottles. It is possible to add extra shelves notably display shelves available individually. The advantages of the Series 5000 Compact range: Whilst the flush-fitting cabinets in this series are very small they nevertheless benefit from all of EuroCave's expertise: accurate temperature management to guarantee perfect wine service or to store your finest wines in optimal conditions; equipped with completely modular shelves suited to all bottle sizes amber LED lighting lockable fault alarms... EuroCave Professional's expertise enhances your wine service. STORAGE ADVICE Storage and preservation advice... Did you know? All wines mature at the same temperature whether underground or in an electric wine cabinet. Maturing cabinets EuroCave reproduces all of the criteria required for effectively maturing wines in this way recreating on a smaller scale the ideal storage conditions found in a natural cellar. 5 criteria are essential for a wine to reach its full potential: A constant temperature - For optimal wine maturing it is necessary to have a stable temperature of 10°C - 14°C whatever the external temperature is. Suitable humidity levels - It is essential to maintain suitable humidity levels between 50 and 80%. The ideal humidity level is 50 - 80%. Below 50% the cork could dry out causing the wine to leech out. Above 80% condensation could appear on the bottles and the labels could peel off. Mold may even develop if there is insufficient air circulation. Ideal ventilation - it is essential to ensure there is sufficient air circulation or mold and bacteria could develop. Maximum protection from light - For optimal maturation wine must be protected from all sources of light: only darkness prevents the deterioration of tannins by oxidation. Direct sunlight containing UV rays causes irreparable damage to wine. Indirect light is also harmful. In the long term it can break down the structure of the wine and dilute it. Absence of vibrations - In order to mature in optimal conditions wine must be protected from vibrations which break down the molecules of some of wine's chemical compounds. Bottle Capacity: 38 bottles* Shelving: 4 rolling shelves Ambient Temperature range: 32-81 degrees Weight: 106 lbs. *A Note About Bottle Capacities: Wine Enthusiast's stated bottle capacities is always based off of storing all standard Bordeaux size bottles which are generally 12' H and 2 7/8' W. 750 ML bottle sizes can vary greatly in both height and width so be sure to check the bottles in your collection as larger bottles (i.e. Pinot Noir Burgundy Syrah Champagne etc.) will lower capacity. If up to 50% of your collection consists of these taller/wider 750 ML bottles capacity can be lowered by 10-15% if over 50% of your collection consists of these taller/wider 750 ML bottles capacity can be lowered by up to 25-30%.
These were $2995 at the time of this posting, but please click on the product link below to find the current price and availability.
Click Here to check price or purchase the EuroCave Professional 5059 Wine Cellar now !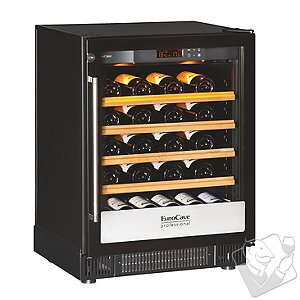 Go to Previous Item | BACK TO LIST | Go to Next Item
Thank you for visiting NYWINETIME! • BOOKMARK THIS SITE • Visit our Virtual Wine Shop
---
---
InActive Store





EuroCave Professional 5059 Wine Cellar