EuroCave Vin Au Verre 8.0 Wine Preserver and Dispenser
You may have arrived to this page from one of our sister sites . . . here's how to return:
americanwino.com | northwesternwine.com
---
nywinetime.com proudly presents:
The Wine Enthusiast
Go to Previous Item | BACK TO LIST | Go to Next Item
---
EuroCave Vin Au Verre 8.0 Wine Preserver and Dispenser
---
Preservation:Gas Preservation
This is another trusted product from Wine Enthusiast. They have a great selection of wine gear, including the EuroCave EuroCave Vin Au Verre 8.0 Wine Preserver and Dispenser presented on this page.
The wine by the glass dispenser that accompanies you at all stages of service… Vin au Verre 8.0 was designed specifically for professionals to help you to manage and develop your wine offering with ease. User-friendly productive and stylish discover the latest addition to the EuroCave Professional range… The most user-friendly wine by the glass dispenser! Keyword: user-friendly! The touch screen allows easy configuration of all of the information required during service: naming the bottles setting temperatures lighting measures and their prices... The tutorials visual warnings and reminders included with the product guide you and indicate all of the stages to be followed during everyday use. Plus points: the automated cleaning system cleans all 8 taps at the same time in less than 3 minutes and without any handling of wine bottles. A first for wine by the glass serving solutions! A wine by the glass dispenser which saves time and energy! Keyword: productivity. Bottles are changed in less than 10 seconds Room for 6 - 8 spare bottles ensures that the replacement bottle is at the correct temperature The glass holder allows you to serve several glasses at the same time You will serve a 12 cl measure in record time: barely 6 seconds! Your wine served and stored in perfect conditions Keyword: performance EuroCave attaches a lot of importance to the quality of wine service to ensure that each tasting experience offers the full array of emotions. Thus Vin au Verre 8.0 has two separate temperature compartments which means that you can offer both red and white wine at the correct serving temperature. Furthermore the glasses are served without froth or splashes to allow the customer to fully appreciate the wine... Finally no more risk of waste your open bottles can be stored for up to 3 weeks thanks to food quality nitrogen. You can even sell your best Magnums by the glass! Increase your turnover and profit margin on wine by the glass sales Keyword: profitability It is now well known that wine by the glass products boost wine turnover. Apart from storing open bottles for up to 3 weeks to prevent waste thereby allowing you to upgrade your range you can control measures: each tap has 3 measures which can all be set independently. What's more the appliance records the glasses served which allows you to consult the appliance's statistics: What are your best sales for a given period? How can you optimise your wine list? The quality and security of EuroCave products Keyword: peace of mind The product meets foods standards such as NSF and CE 1935 / 2004. The doors can be locked in order to secure access to the wine bottles inside the appliance. It is also possible to lock the measures by a code entered on the touch screen. The manager and waiter can have different levels of use thanks to confidential codes which do not give access to the same functionalities. EuroCave has selected high quality materials resulting in a durable product suited to heavy-duty use: triple-glazed doors manual buttons for serving measures reinforced insulation.
These were $12999 at the time of this posting, but please click on the product link below to find the current price and availability.
Click Here to check price or purchase the EuroCave Vin Au Verre 8.0 Wine Preserver and Dispenser now !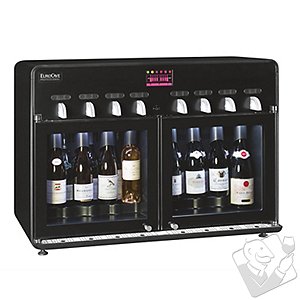 Go to Previous Item | BACK TO LIST | Go to Next Item
Thank you for visiting NYWINETIME! • BOOKMARK THIS SITE • Visit our Virtual Wine Shop
---
---
InActive Store





EuroCave Vin Au Verre 8.0 Wine Preserver and Dispenser